The votes are in! We asked our Crew members what their favorite Quick Service and Table Service restaurants are in Animal Kingdom. Lots of fan favorites made the list, but which ones stood out among the rest? Join us for another installment of this 4-part park series and see what Disney fans think is the best dining location in Animal Kingdom!
Animal Kingdom is right up there with Epcot in terms of great dining options throughout the park. There are a ton of great places to grab a bite at Animal Kingdom and you'll find many unique dishes and flavors, too!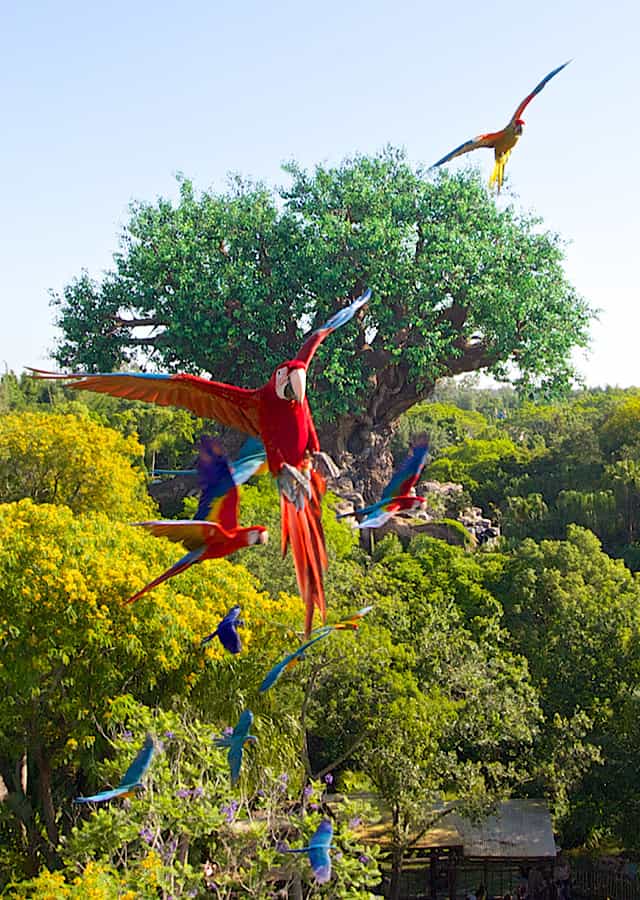 We gave our wonderful Crew Members a poll with all of the Quick Service (QS) and Table Service (TS) locations currently available in Animal Kingdom and asked them to pick their must eat locations.
You can also catch up on which restaurants our readers thought were the best Epcot and Magic Kingdom!
Let's take a look at which Animal Kingdom dining options are the tried and true favorites of Disney fans!
Quick Service Top 3
3. Yak and Yeti Local Foods Cafe
Many guests love Yak and Yeti Local Foods Cafe because it offers more unique flavors than you would find at most theme park locations.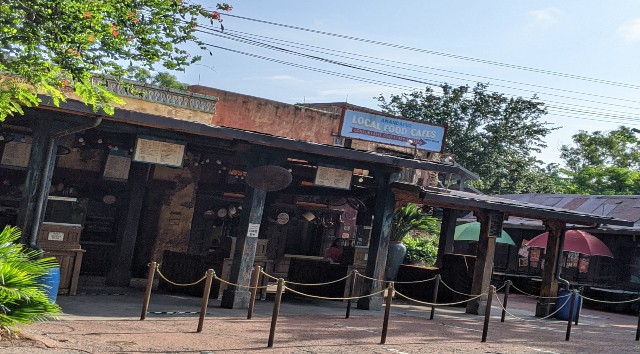 Yak and Yeti Local Foods Cafe serves up Asian cuisine the whole family will enjoy such as fried rice, honey chicken, sweet and sour shrimp, egg rolls and more.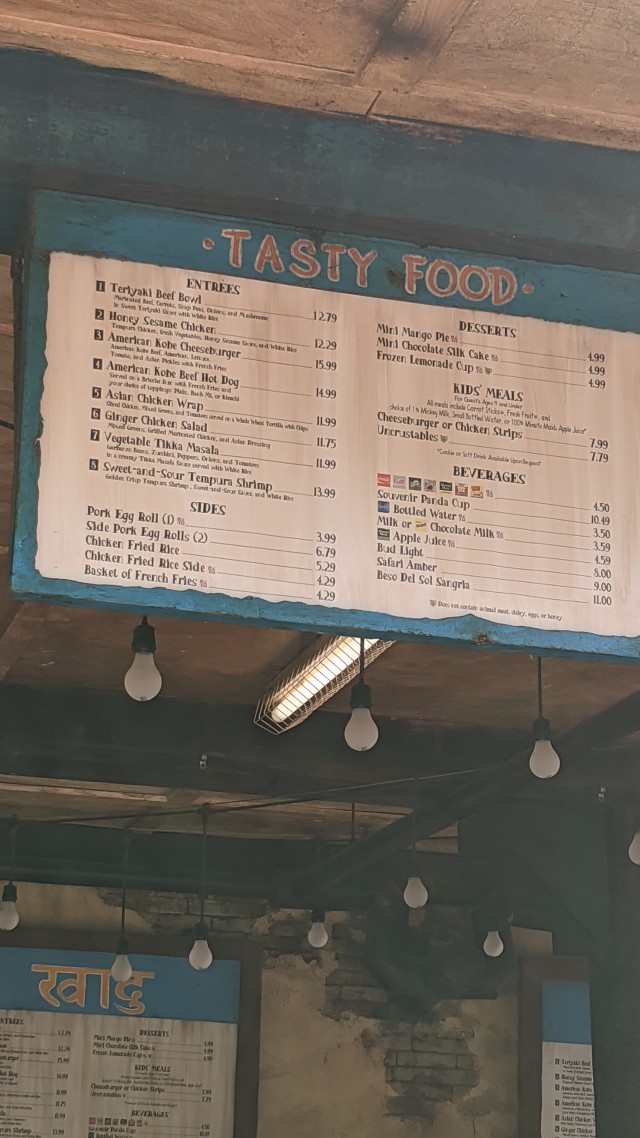 Some guests may get a little confused because there are two Yak and Yeti locations in Animal Kingdom. Yak and Yeti Local Foods Cafe is the Quick Service counterpart to the Yak and Yeti Restaurant located just next door. 
We often stopped by Yak and Yeti Local Foods Cafe for lunch because we would ride the safari in the morning, watch the first Festival of the Lion King show and head over to the Maharajah Jungle Trek. By the time lunch came around, we were already right in the area of Yak and Yeti to grab lunch.
You can't go wrong with anything at Yak and Yeti Local Foods Cafe! If you're craving something different than a burger next time you are at Animal Kingdom, consider stopping over to Yak and Yeti for some delicious Asian cuisine!
2. Satu'li  Canteen
I have to admit that I had not been to Satu'li Canteen before February of 2020. I always shied away from eating here because the food always seemed too adventurous for my (Christina) taste. 
In February of 2020, some of our writing team happened to be vacationing in Disney on the same week so we all gathered at Satu'li Canteen for lunch.
I was so blown away with how fabulous the food was! I ordered a combo bowl to share with my family that contained beef, chicken and noodles tossed in an herb dressing. 
It was absolutely delicious! All of the protein had a tasty wood-grilled flavor and the herb dressing complimented the noodles perfectly. My whole family made a vow to return to Satu'li Canteen next time we go back to Disney.
Satu'li Canteen is certainly one of the most unique Quick Service food locations you will find in Animal Kingdom. Not to mention the attention to detail all around the Valley of Mo'ara and the Canteen itself. 
If you are a less adventurous eater like me, consider giving Satu'li Canteen a try. You might just find a new favorite dining location!
1. Flame Tree Barbecue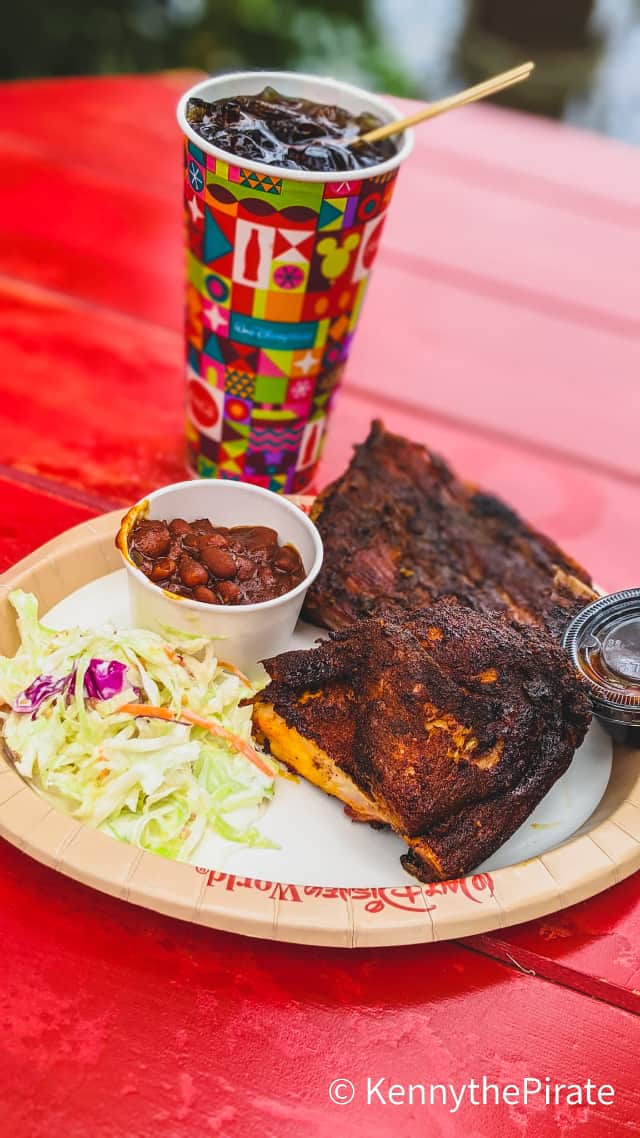 The number one Quick Service location in Animal Kingdom according to our readers is Flame Tree Barbecue. This location won in a landslide victory! 
Flame Tree Barbecue has long been a favorite location for guests for many reasons. This is one of those places that will please the whole family. Unlike some other more adventurous locations, BBQ is pretty standard fare.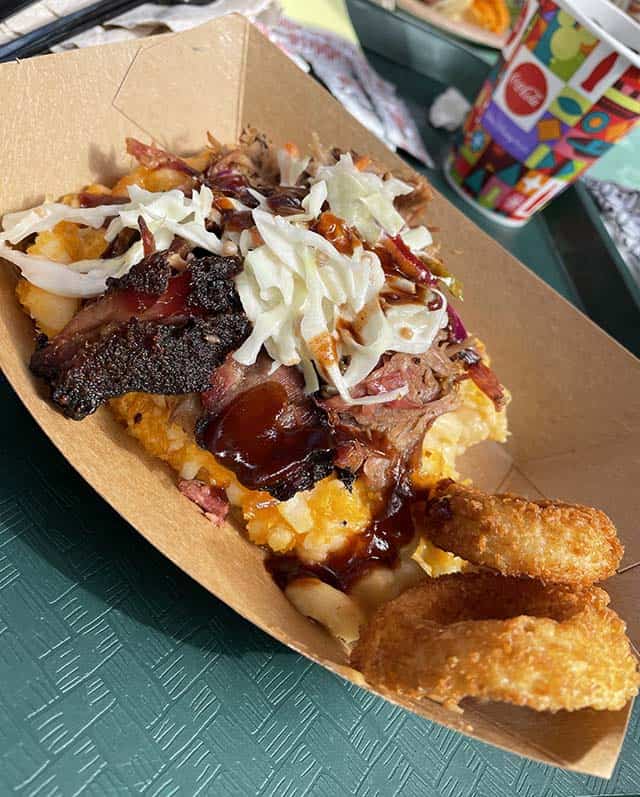 Many guests say that the portions are large and great options to share, however a few of our readers said that the one downside is all the carnivorous birds hanging around the seating area.
I personally love BBQ so Flame Tree is one of my favorite locations. You'll find lots of smoked goodness such as ribs, rotisserie chicken, pulled pork baked mac & cheese, onion rings, salads and more.
If you love a good BBQ meal, be sure to make a stop at Flame Tree Barbecue. 
Table Service Top 3
3. Tiffins
Until a few years ago, there really weren't a whole lot of options for Table Service restaurants at Animal Kingdom. When Tiffins opened, it filled the need to have a signature dining experience in the parks. 
Tiffins is definitely not for the non-adventurous eater. The menu is geared more to please foodies who enjoy trying new flavors and unique dishes. 
It is also quite pricy so be sure to take a glance at the menu before booking to see if this is somewhere your family wants to try. The decor at Tiffins is absolutely gorgeous and if the menu is enticing to you, definitely give it a try! 
The name "Tiffins" refers to the light lunch meal prepared for working men in India, and the tiered containers the meals were served in.
If you don't want to shell out the cash for a full meal at Tiffins, be sure to stop over at the Nomad Lounge for some delicious appetizers and drinks. This is a great place to kick back and relax from the hustle and bustle of park life. 
For more details on Tiffins be sure to check out KatieP's amazing review HERE!
2. Tusker House Restaurant
Our second place winner for Table Service meals is Tusker House Restaurant.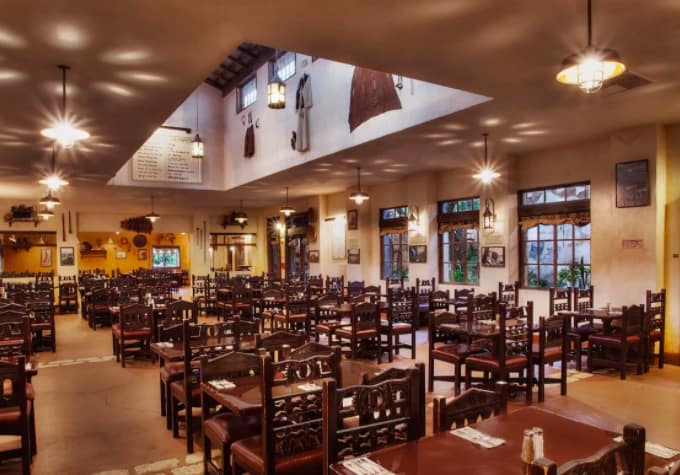 During pre-pandemic times Tusker House Restaurant was a character buffet meal for breakfast, lunch and dinner. The food was similar to what you would find at Boma, but with more options to please all types of palates.
I'm dating myself here, but I can remember back to when Tusker House was simply a Quick Service spot that served up delicious rotisserie chicken and green beans. I miss that version so much, but I have eaten at Tusker House since the change and it is still great food.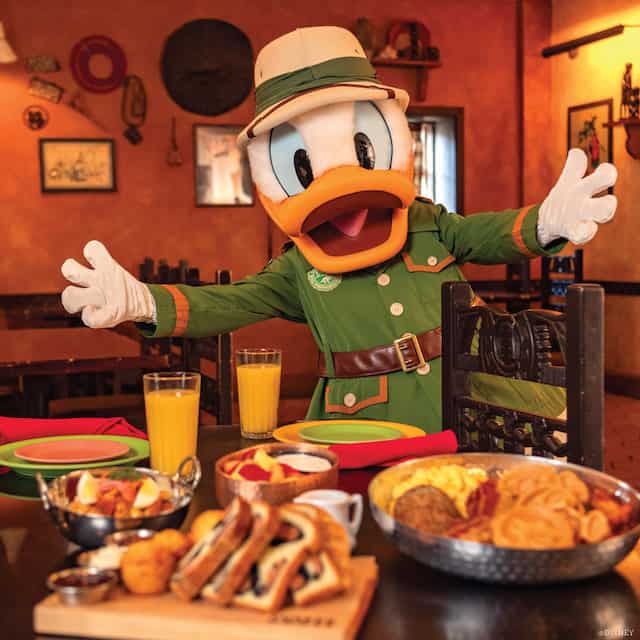 Due to the Covid-19 pandemic, Tusker House Restaurant was closed for a very long time. However, it has returned!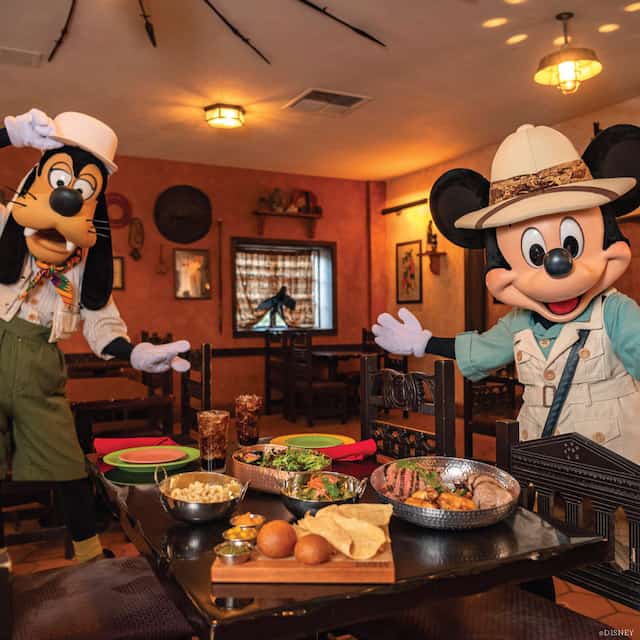 All meals are served family style. Breakfast includes standard offerings such as pastries, sausage, Simba waffles, eggs, potatoes and bacon.
Dinner is served with house-made breads, African-inspired salads, Moroccan-spiced Beef, Spit-roasted Herb Chicken, Cape Malay Green Curry Shrimp and Berber-marinated Pork along with assorted veggies, rice, potatoes and mac and cheese as sides.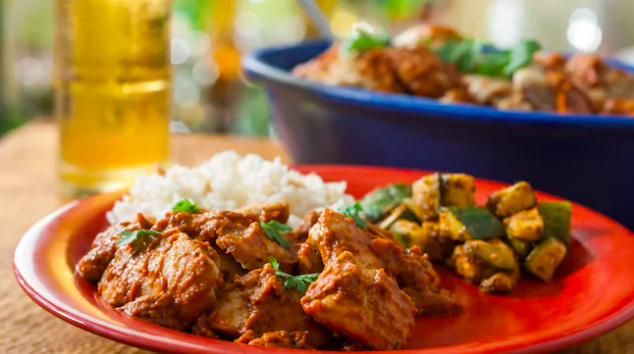 Characters roam throughout the restaurant and pose for socially distanced selfies. 
If you are looking to try some different flavors, this is a great way to do it. You don't have to commit to one entree, but instead sample a variety of flavors. 
1. Yak and Yeti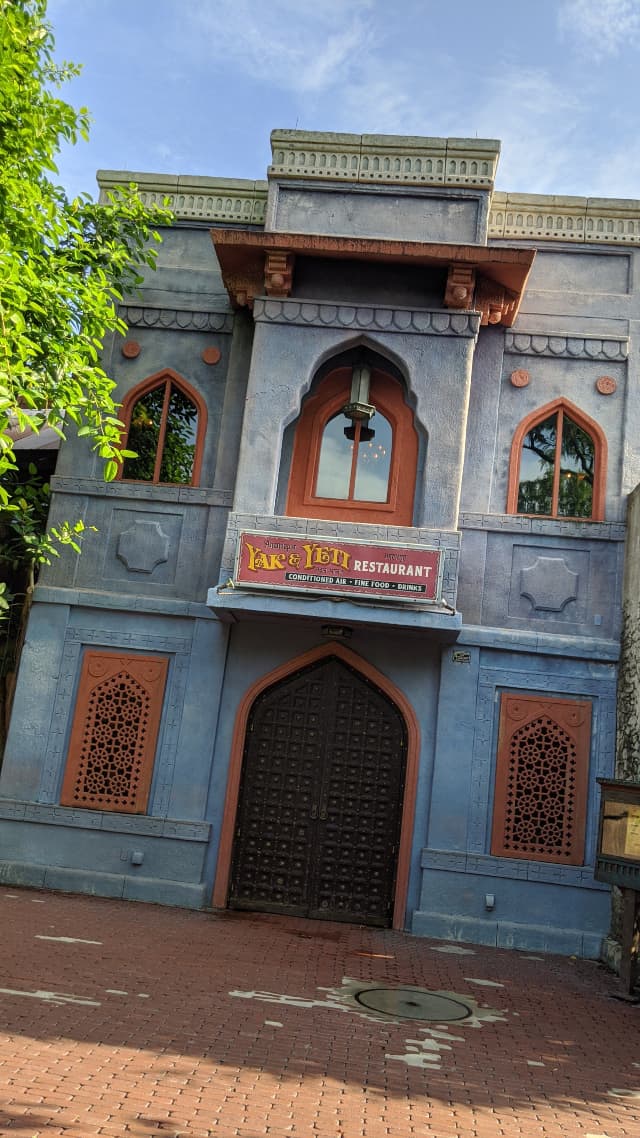 The number one Table Service meal at Animal Kingdom goes to Yak and Yeti Restaurant. Not to be confused with the Quick Service location next door (Yak and Yeti Local Foods Cafe), this sit down meal offers some wonderful pan-Asian cuisine. 
Many people love Yak and Yeti because it is a menu that will please the whole family. You'll find lots of accessible options such as potstickers, Lo Mein, Sweet and Sour Chicken, Salmon, Tikka Masala, Ribs and Burgers.
If you want to step out of your comfort zone, there are also some unique offerings such as the Ahi Tuna Nachos, Malaysian Seafood Curry, and Bhaktapur Duck, too.
Not only is the food super tasty, but the restaurant itself is gorgeous. The detail in this beautiful Nepalese-style restaurant is absolutely amazing.
If you are a Landry's card member, you can walk up and be seated without a reservation. You will also be able to use your card to earn points off your dining at any Landry's owned restaurant.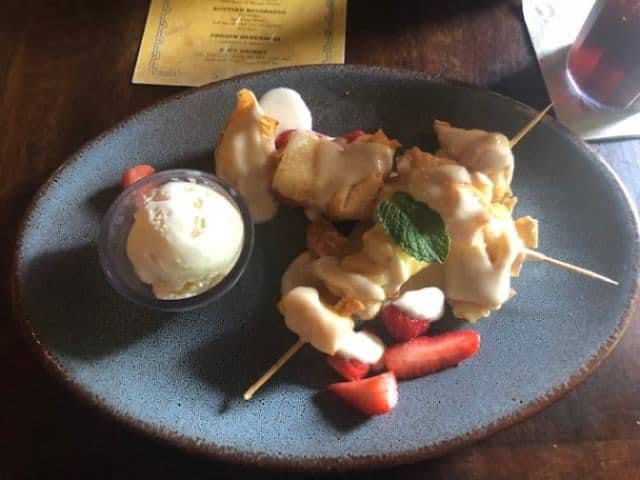 Next time you are considering booking a Table Service meal at Animal Kingdom, don't forget about Yak and Yeti! This little gem is such a great location for the whole family to enjoy!
Overall Winner
The winner of the best restaurant in Animal Kingdom (QS or TS) is Flame Tree Barbecue! Our viewers think this is the place you need to go when looking for a great meal at Animal Kingdom.
There's something to please the whole family at Flame Tree Barbecue and the view looking out over the water at Mt. Everest is an added bonus!
Amazingly, out of all 4 parks there was only one Table Service restaurant that scored #1 in the Overall category (50's Prime Time Cafe). It appears that Disney fans agree that Quick Service locations are where it's at!
What do you think of this top dining locations in Animal Kingdom list? Did your favorite make the cut? Let us know what places are your favorite to eat in Animal Kingdom in the comments and on our Facebook page!