Anyone who has attended Global Pet Expo, held annually at the Orange County Convention Center in Orlando, Fla., knows that it's tough to sum up the market's offerings after shopping aisle after aisle of the sprawling show floor. The event, which is produced by the American Pet Products Association (APPA) and Pet Industry Distributors Association (PIDA), presents an enormous amount of product in a wide range of categories. Still, a few key dog food trends popped out above the rest at this year's show, which took place March 23-25.
Kibble, in many ways, is still king. It's economical for many pet owners. It's also convenient and, perhaps above all, just plain familiar. It's what people are often used to. But the number of pet owners who really want to do more and do better for their dogs continues to grow, and it's driving several trends in the dog food, treats and chews categories.
Top This!
Judging from the many product launches at Global Pet Expo, meal enhancers are among those trends. While many pet owners continue to serve kibble, they are increasingly looking for ways to boost the nutrition—and the enjoyment—of mealtime for their pets.
The demand for premium-quality diets is certainly not new, but Dr. Danielle Bernal, global vet nutrition director of Wellness Pet Co., pointed out that these days, pet owners are also seeking an elevated eating experience for their pets.
They want to serve up variety, she said, and "they want to see the joy."
Pet owners are achieving this by adding meal toppers such as Wellness' Core Bowl Booster products—a functional topper line that includes options to address digestive, joint, heart, immune, and skin and coat health. They are designed to give pets an added dose of nutrients, but they also bring "the joy" with dog-friendly flavors and formulas.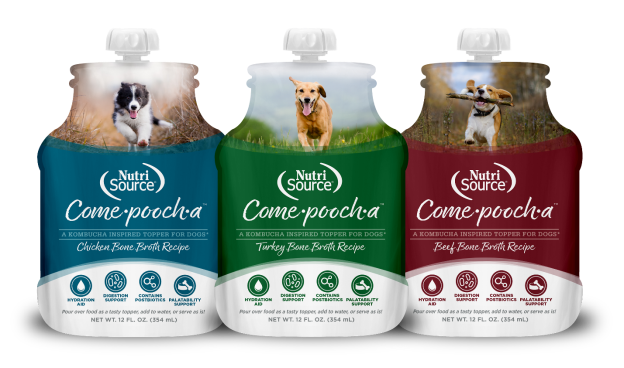 One Global Pet Expo exhibitor making its first foray into the toppers and meal enhancers segment is NutriSource with its new kombucha-inspired Come-pooch-a, a bone broth topper. Kombucha is a fermented drink that gained popularity in the human beverage market due to its digestive-health-boosting properties. Similarly, NutriSource's doggie version offers pets a serving of activated postbiotics meant to aid digestion.
The product line straddles at least three trends that are raging right now—products that support gut health, products that enhance kibble and products that offer an added measure of hydration.
Wellness is also checking off multiple trend boxes with its new fresh frozen offerings, Bowl Boosters Freshly. In fact, one of the hottest spots in the brand's sizable Global Pet Expo booth was actually a freezer, packed with the brand's new fresh-frozen recipes, which include Turkey & Sweet Potatoes and Chicken & Butternut Squash.
"It's been the hottest item of this show," for the brand, Bernal said. "Everyone is like, 'how and when can I get it?'"
Sales of refrigerated and frozen "fresh" diets are building momentum on the dog food track. It's a segment that largely had been dominated by Freshpet before direct-to-consumer disrupters such as Ollie and The Farmer's Dog joined the space. Since then, brick-and-mortars have been getting in on the fresh action. Petco, for example, partnered with JustFoodForDogs and has been selling the company's refrigerated product in its physical locations.
Indie pet specialty stores are also looking to get stocked in this segment, so freezers or refrigerators that were once stocked with only raw foods and goats milk products may now be housing gently cooked fresh diets.
A Pup Above, which was one of the five startups selected for Purina's annual Pet Care Innovation Prize in 2021, was promoting its fresh cooked diets at Global Pet Expo this year. Since being named an Innovation Prize winner, the Austin, Texas-based brand has inked numerous distribution deals and can be found in a growing number of brick-and-mortars.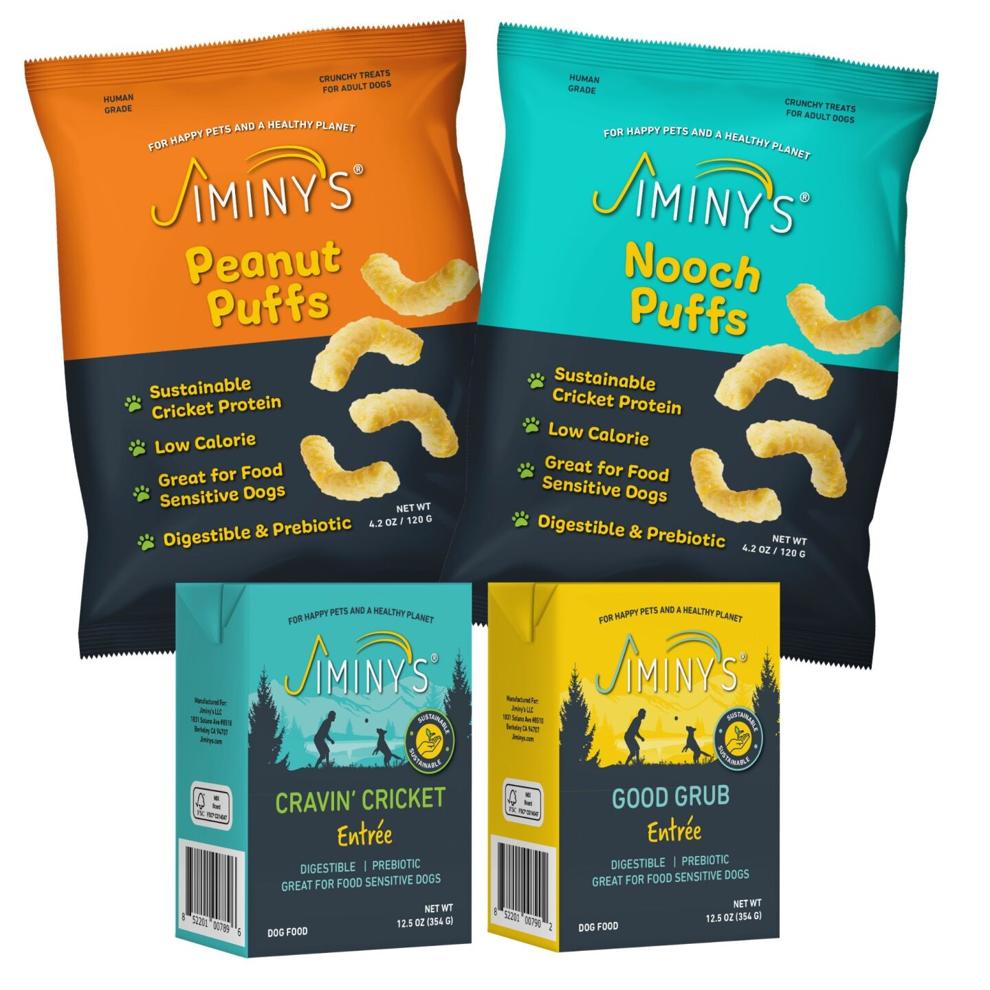 Meatless Meals
Another trend that was in full force at the show was meatless foods and treats for dogs. From Jiminy's, the grub and cricket food innovator that keeps expanding its product portfolio to more traditional pet food manufacturers that are now entering this space, the number of companies in this category is growing rapidly.
Wellness, for example, offers a product that boasts eggs as a key protein ingredient to make the concept of feeding a meatless diet to pets feel more comfortable to the uninitiated. The company's Wellness Core Digestive Health Plant-Based Kibble is crafted with digestive enzymes, prebiotic fibers and probiotics to support digestive health, and eggs to promote strong immune systems.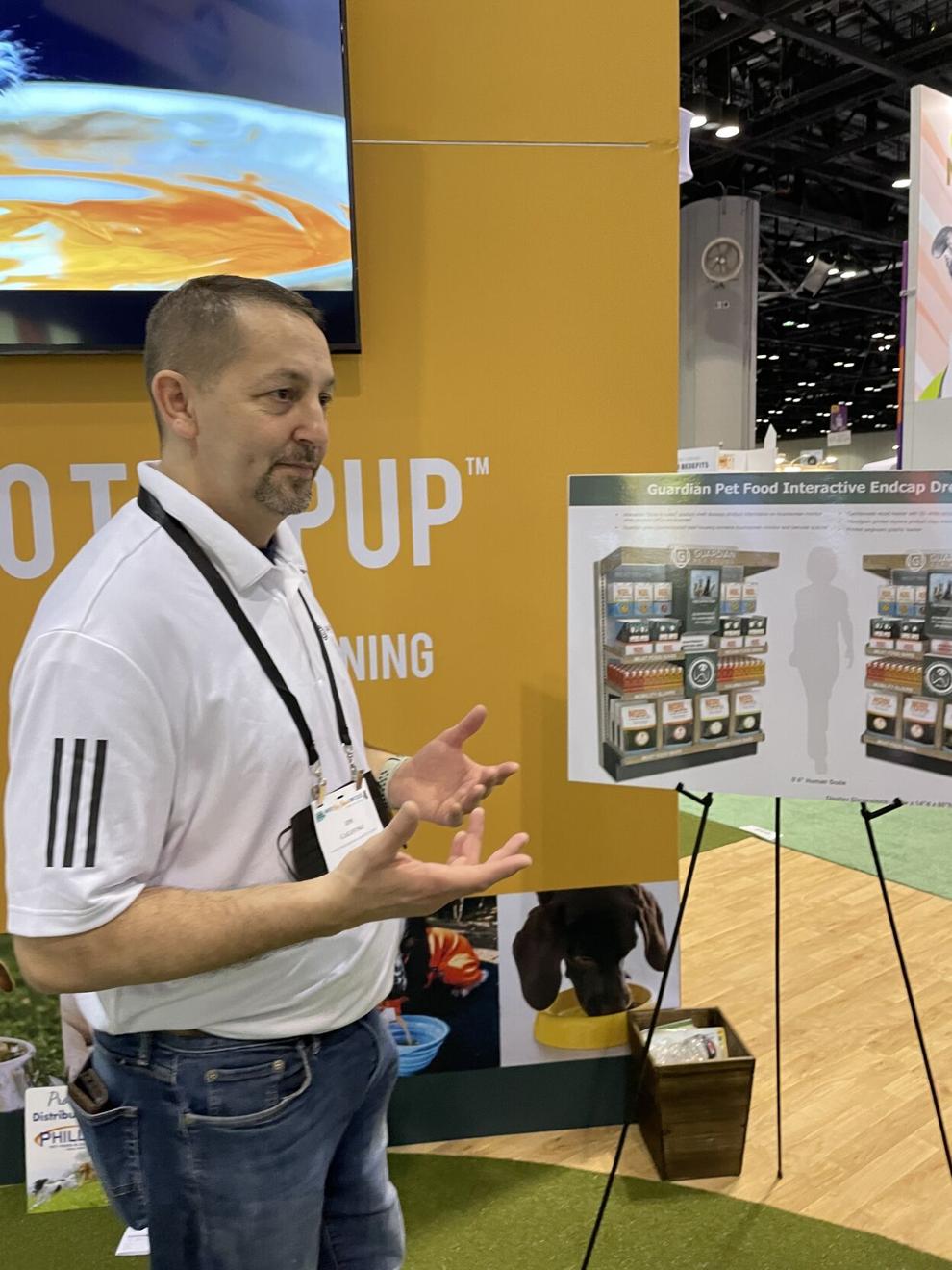 Nobl, a Guardian Pet Food Co. brand, also makes a meatless version of its novel pet food canine food bars. The brand's vegan formula—designed to be a complete and balanced meal bar just like the turkey- and beef-based options—features pea protein as its first ingredient. And although the product is likely to appeal to the eco-conscious or vegan customer looking for options that align with their values, Jim Galovski, co-founder and president of Guardian, explained that Nobl's meat-free option is intended to address the needs of the many dogs who've developed allergies to traditional proteins such as chicken or beef.
Chew Choices Abound
Emerging trends in the chew category evident on the show floor focused on alternatives to traditional chews, functional benefits and sustainability.
Alternatives to traditional antlers, pig ears and bully sticks were spotted at several Global Pet Expo booths.
Wellness debuted its Whimzees by Wellness Occupy product line, which includes the Calmzees Antler, an antler-shaped rawhide-free chew. The long-lasting chews have six primary ingredients, and the company plans to add Veggie Ear and Ricebone options later this year.
Loving Pets also offers antler, pig ear and bully stick alternatives. The company's Be Chewsy line aims to be more affordable and safer than corresponding animal parts. Options include Pig Ear, which includes pork, Bully Stick, which includes real ground bully and Antler, which includes calcium for effective teeth cleaning.
The demand for long-lasting chews that keep pets occupied hasn't wavered. However, health- and price-conscious consumers are now looking for more functional options. Collagen chews are cost-effective alternatives that can help support muscles, bones, teeth and nails, said William Englehart Jr., director of sales at Frankly Pet.
Frankly Pet showcased its line of collagen chews, as well as its Beefy Puffs snacks, at Global Pet Expo. Beefy Puffs, which debuted at Global Pet Expo 2020, are composed of 100 percent collagen and offer a satisfying crunch for pups that dogs and their owners have responded to in a positive way, Englehart said.
Barkworthies, a TDBBS brand, is another manufacturer keying in on the benefits of collagen. The company debuted its Collagen bully sticks, Little Barkers and Backyard Barkers product lines at the show.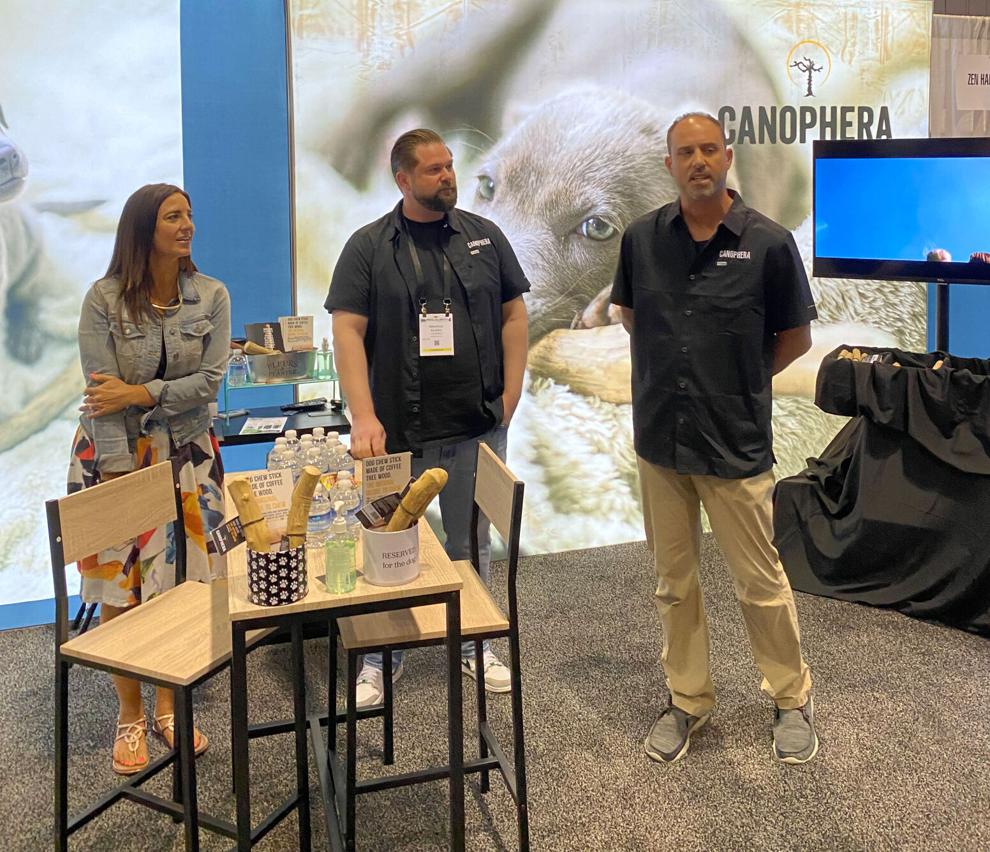 The Daily Health Boost Collagen Chews are made from naturally collagen-rich beef, promote mobility, support a healthy skin and coat, and boost digestive health while helping to loosen tartar and plaque through the chewing action, explained Kate Hitsman, senior manager of sales and product development. And the suggested retail prices, which range from $3.99 to $15.99, are perfect for price-conscious consumers, she added.
Sustainability was a focus for Canophera, a German manufacturer of natural dog chews that made its U.S. debut at Global Pet Expo. The company offers Chews Sticks made from caffeine-free coffee wood. During a media event at the company's booth, co-CEOs Sebastian Klafka and Benjamin Lemm explained that coffee wood is a natural byproduct of coffee production, so no tree is uprooted or cut down for production. In addition, the sticks are resilient and less likely to splinter, they explained, and are 100 percent vegan and free from any harmful additives.