Lemon gelato is an amazingly refreshing frozen dessert that will tantalize your tastes with fresh lemon flavor and the creamy texture of ice cream made with milk and heavy cream so the flavors shine through.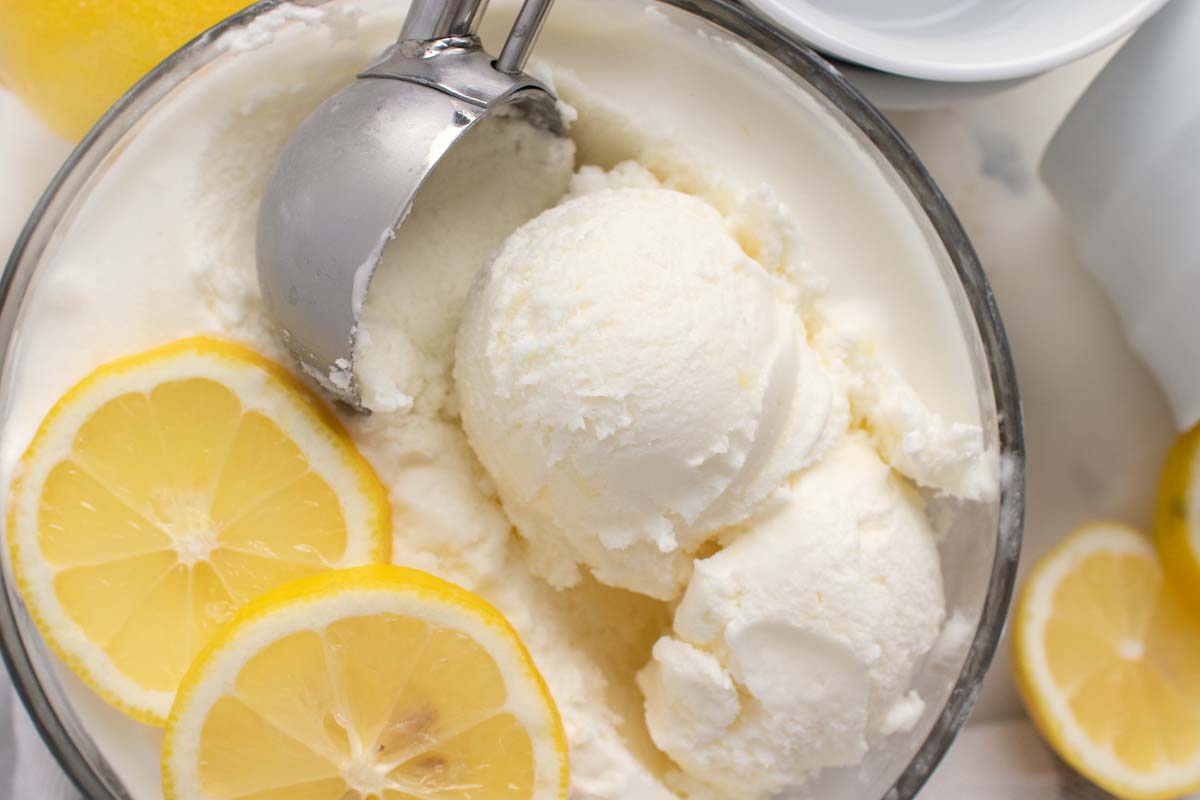 All you need to make my lemon gelato (which can be made in your ice cream maker) is lemon juice, lemon zest, sugar, heavy whipping cream, milk, and a dash of salt. No egg yolks needed!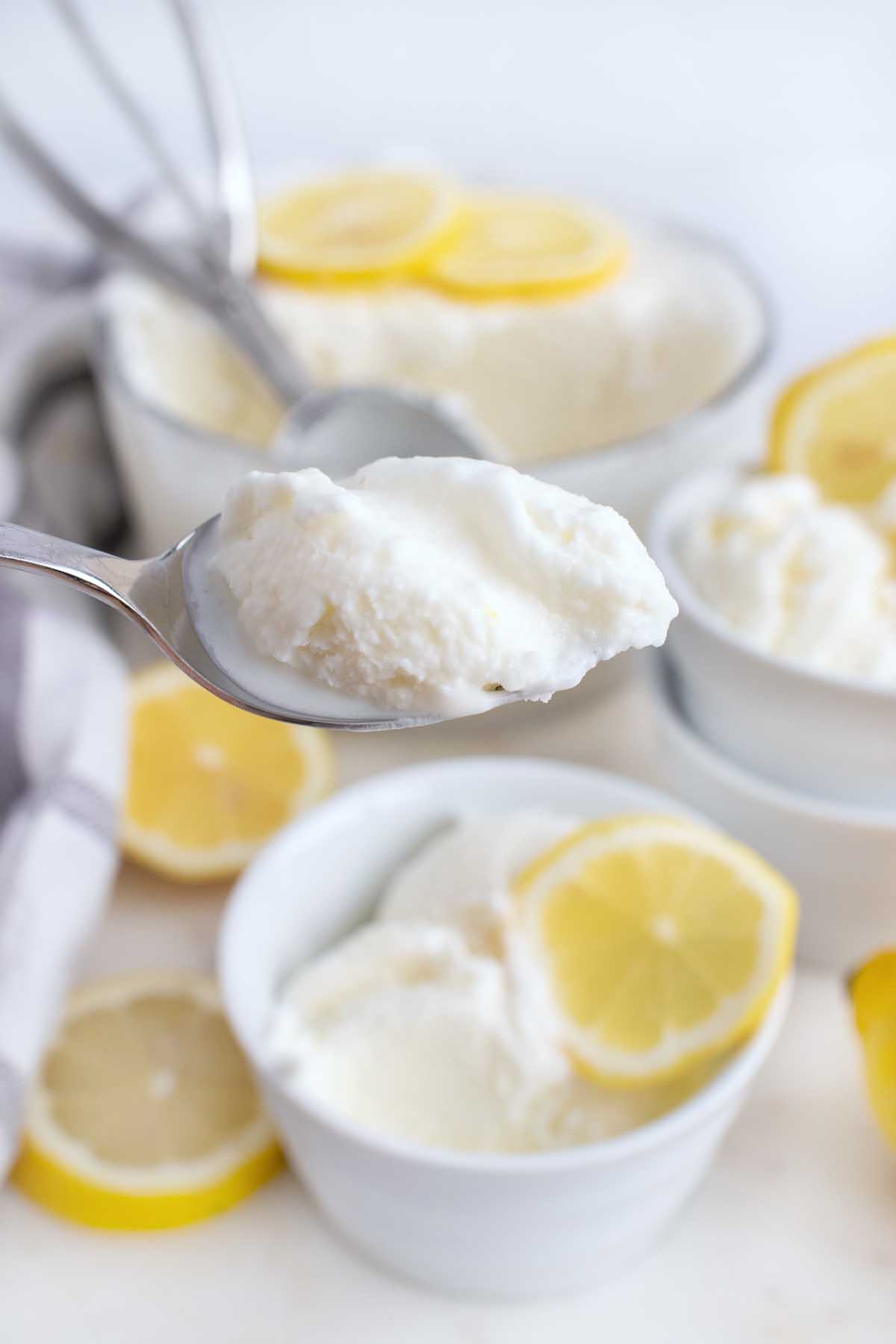 Gelato isn't that much different than ice cream, the big difference is that milk is used instead of all cream, which actually makes the flavors of what you're using stand out even more, and if you find the right balance between cream and milk, you still get that rich creamy texture that Americans have come to love about our ice cream!
What ingredients do I need to make Lemon Gelato?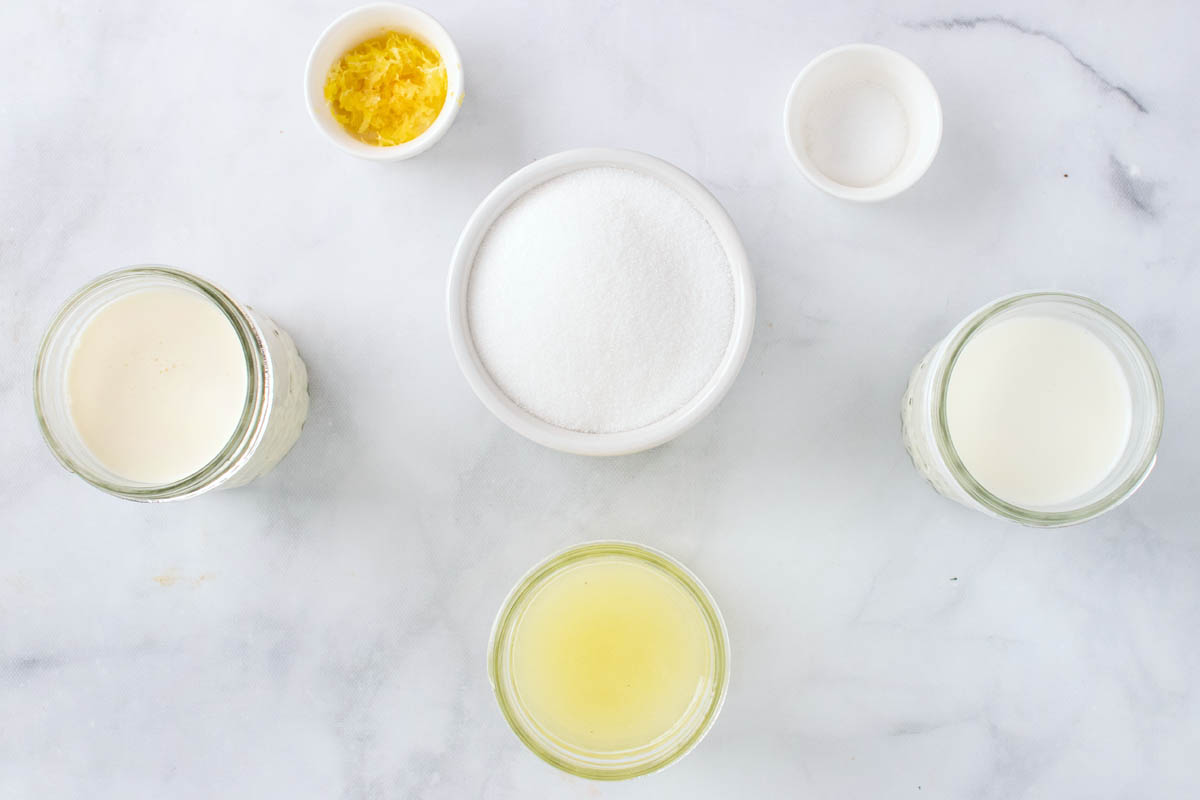 Let's start by gathering the ingredients we need to make lemon gelato. In Chef Speak this is called the "Mise en Place" which translates to "Everything in its Place".
Not only does setting your ingredients up ahead of time speed up the cooking process, it also helps ensure you have everything you need to make the dish.
*I originally made this gelato with Meyer Lemons so either variety are good.
How do I make Lemon Gelato?
It's really easy to make my version of Lemon Gelato. All you need are a few simple ingredients to make this gelato / ice cream recipe.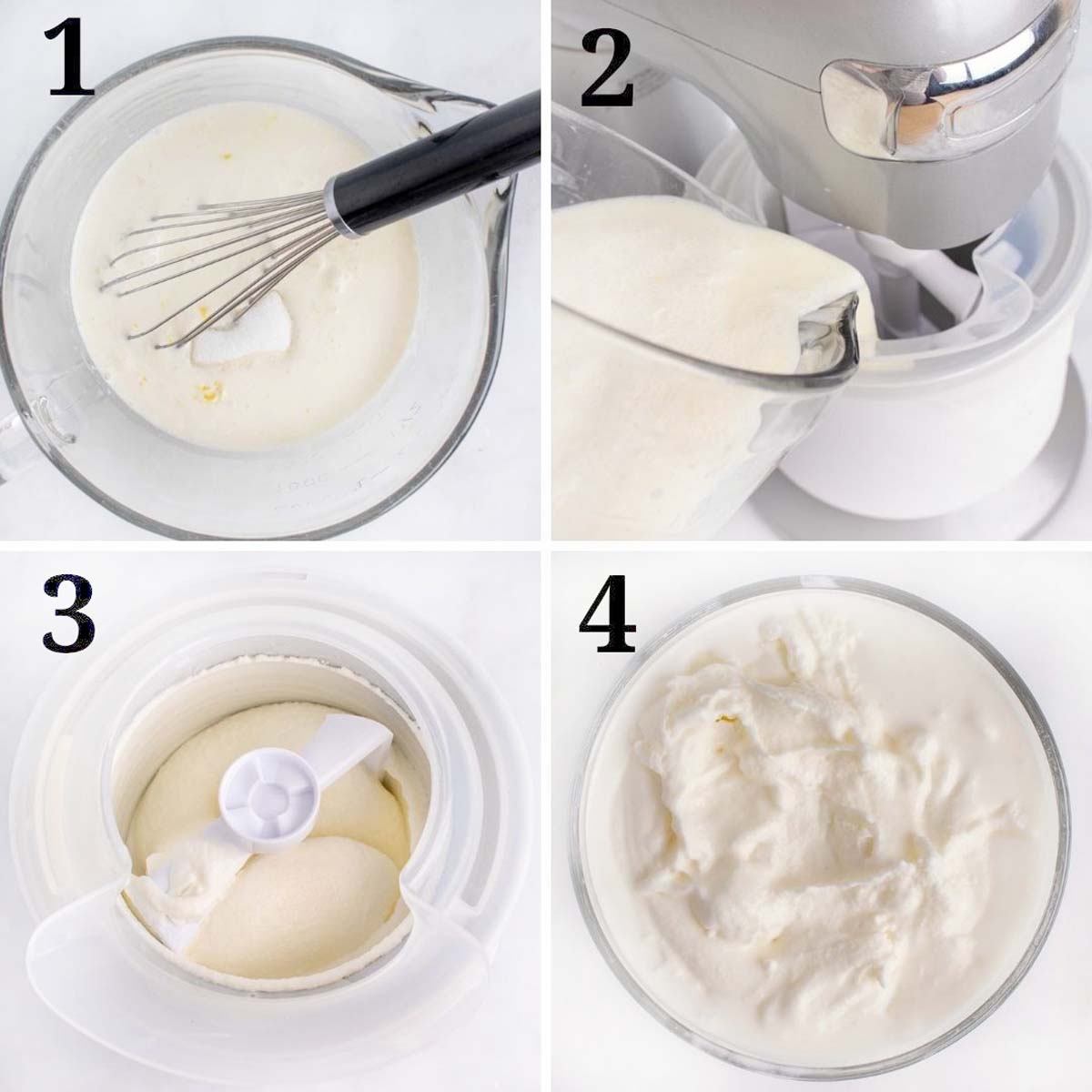 Add the cream, milk, lemon juice, zest, sugar, and salt together. Using a wire whip, mix until the sugar dissolves and is completely incorporated. (the mixture should thicken some)
Pour the lemon mixture into a gelato or ice cream maker.
Allow the mixture to freeze.
When the gelato mixture has sufficiently frozen, place into a container and allow the lemon gelato to completely freeze.
Can I Use an Ice Cream Maker to Make a Gelato Recipe?
Yes, you can. The difference between the two machines is gelato is churned at a much slower rate than ice cream, incorporating less air and leaving the gelato denser than ice cream. 
Of course, if you don't have a gelato maker you can easily take my recipe for Lemon gelato and use your ice cream maker to make super creamy and delicious ice cream.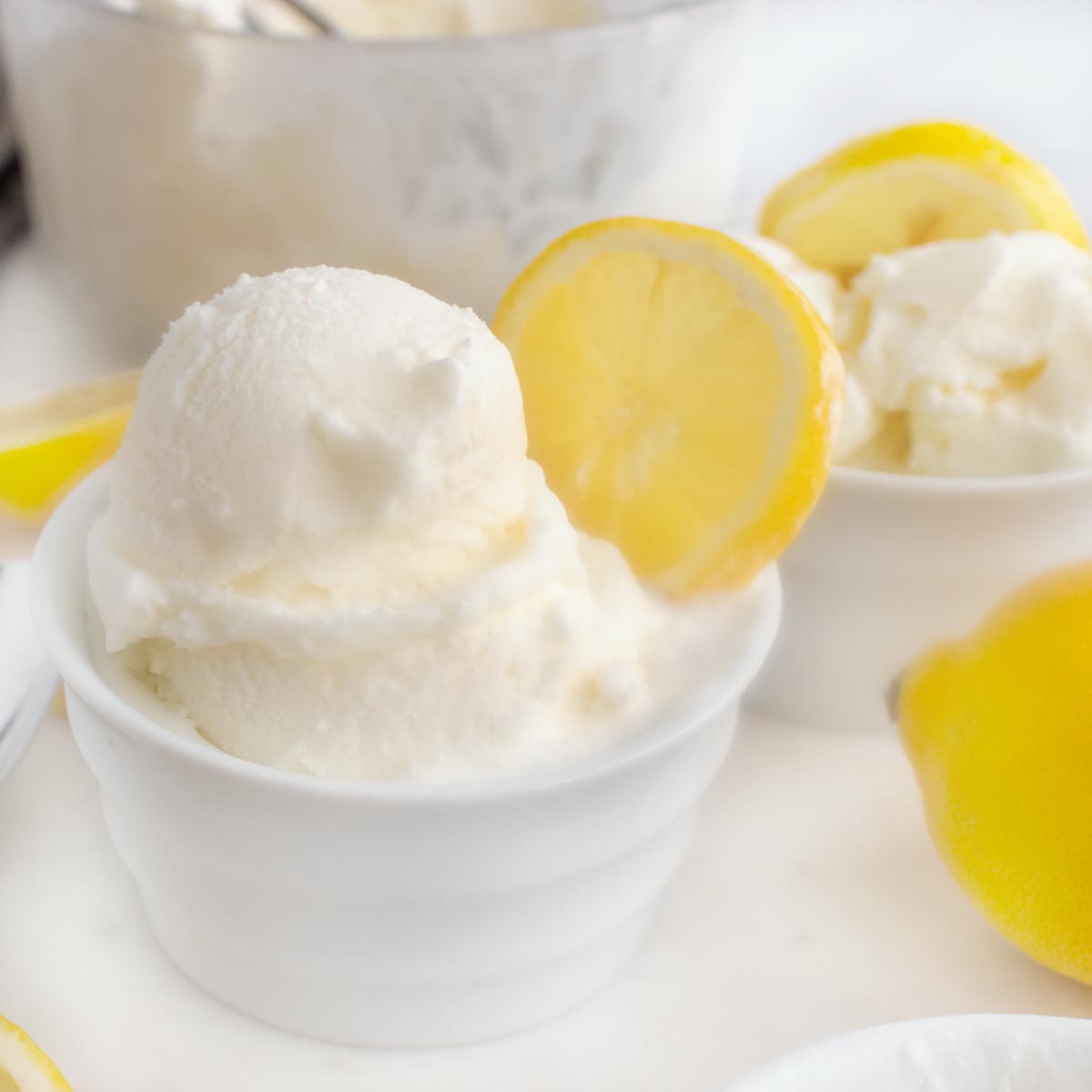 So when life hands you Lemons make gelato. Your friends and family will be oh so happy that you did. Just be prepared for all the compliments and requests to make it again and again.
Recipe FAQ's
What is the difference between gelato and ice cream?
Ice cream has a higher butterfat content which masks some of the natural flavors, where the creaminess of the ice cream is more of the star than the added flavor. Italian gelato uses less butterfat, and also doesn't whip the mixture as quickly adding less air into the gelato. This makes the gelato denser and packs the flavor into each spoonful because of the density.
What ingredients do I need to make gelato?
Five basic ingredients are needed to make gelato. Heavy cream, milk, sugar, salt and the flavoring you'll be adding. Fresh fruit is my favorite added flavor when I make gelato, but you can easily make pistachio, chocolate or any flavor you can imagine.
Do I need eggs to make Gelato?
No, you don't. You can of course make a custard-type base for your gelato using eggs, but that will require cooking the custard and allowing it to cool before freezing. The eggs will make the base richer, but eggs are not necessary for amazing gelato.
More Gelato Recipes You'll Love!