Maxie B's bakery in Greensboro, North Carolina, is best known for its pies and cakes, but as blueberries come in season, their seasonal Lemon Blueberry Bars also become a hot item.
"The lemon blueberry bar has coconut extract in the batter as well as lemon," says Robin Davis, owner of Maxie B's. "The coconut extract is an unexpected ingredient that really gives it a depth of flavor. It's a menu item that has a really loyal following."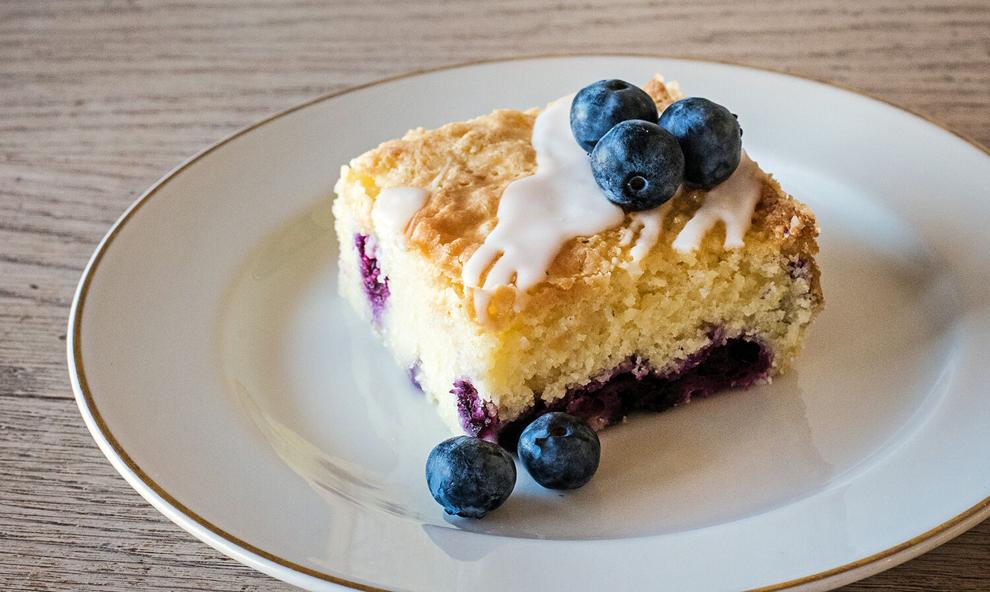 Lemon Blueberry Bars
nonstick cooking spray
1 large lemon
12 oz salted butter (3 sticks), softened
3 cups granulated sugar (1 lb 5 oz)
6 large eggs
2 Tbsp lemon extract
½ tsp almond extract
½ tsp vanilla extract
¼ tsp coconut extract
3 cups (13 oz) plus 1½ Tbsp all-purpose flour, divided
½ tsp baking powder
½ tsp salt
1 container (8 oz) plus 2 to 3 Tbsp well-shaken buttermilk, divided
2½ cups fresh blueberries, divided
about 1¼ cups powdered sugar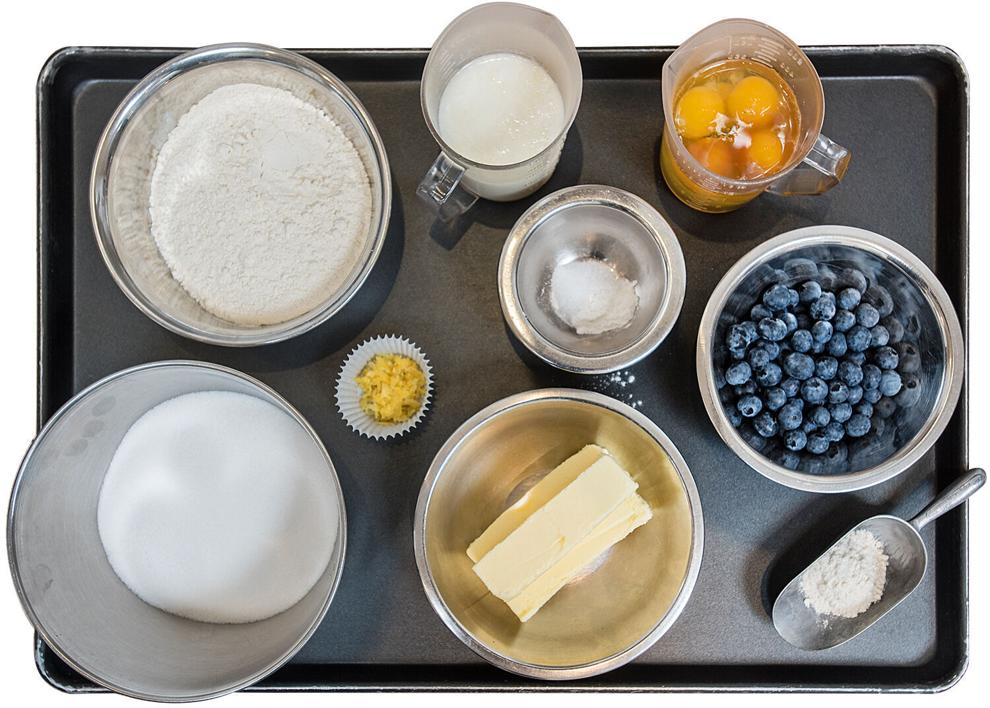 Preheat oven to 325°F. Spray 13-by-9-inch metal baking pan with nonstick cooking spray; line pan with parchment paper so that it extends 1 inch over short sides of pan. Spray parchment with nonstick cooking spray. From lemon, grate 1 tablespoon zest and squeeze 1 tablespoon juice; set aside.
In large bowl, add butter and sugar; with mixer on low speed, beat until blended. Gradually increase speed to medium-high and beat 4 to 5 minutes or until light and fluffy, occasionally scraping sides of bowl with rubber spatula. Add eggs and extracts; beat on medium speed until well mixed.
Reduce speed to low. Gradually beat in 3 cups flour, baking powder and salt, then slowly add 8 ounces buttermilk, lemon juice and zest; beat just until well combined, occasionally scraping bowl. In small bowl, toss 1½ cups blueberries with remaining 1½ tablespoons flour to coat.
Spread half of batter evenly in prepared pan; sprinkle blueberries along with any flour in bowl evenly over batter. Spread remaining batter over blueberries to cover. Bake 45 minutes to 1 hour, turning once halfway through baking, or until toothpick inserted in center comes out with a few moist crumbs attached. Cool completely in pan on wire rack.
Just before serving, use parchment to lift bar out of pan and onto cutting board. Cut lengthwise into three strips, then cut each strip crosswise into 4 bars. Separate bars slightly.
Prepare glaze: In medium bowl, with whisk, stir together 1¼ cups powdered sugar and remaining 2 to 3 tablespoons buttermilk until glaze is smooth and reaches a consistency similar to corn syrup or honey. Adjust amounts of buttermilk or powdered sugar as needed so that the glaze is fluid enough to pour and sets up to made defined stripes. Glaze should not be so wet that it runs off the sides or soaks into bar. Use whisk or fork to drizzle glaze in back and forth motion diagonally across top of bars. Immediately place about 3 fresh blueberries in glaze on each bar for garnish. Store bars in airtight container in refrigerator up to 3 days.