When it comes to most pets—cat, dog, bunny or whatever else—most pawrents can attest to the old adage "It's the little things." We may bust our butts to afford our pets' bougie lifestyles—expensive fresh-cooked food, costly vet bills when necessary and the like—but the old saying really rings true. Got an old Amazon box laying around? Cat heaven. Tattered old rope? Every dog's dream.
Cardboard boxes and old worn toys aside, we all believe our furbabies deserve the best. So, skip the overhyped, super expensive stuff and stick to what pets really want! Here are 25 of the best pet products that your furry friend will actually love.
25 Best Pet Products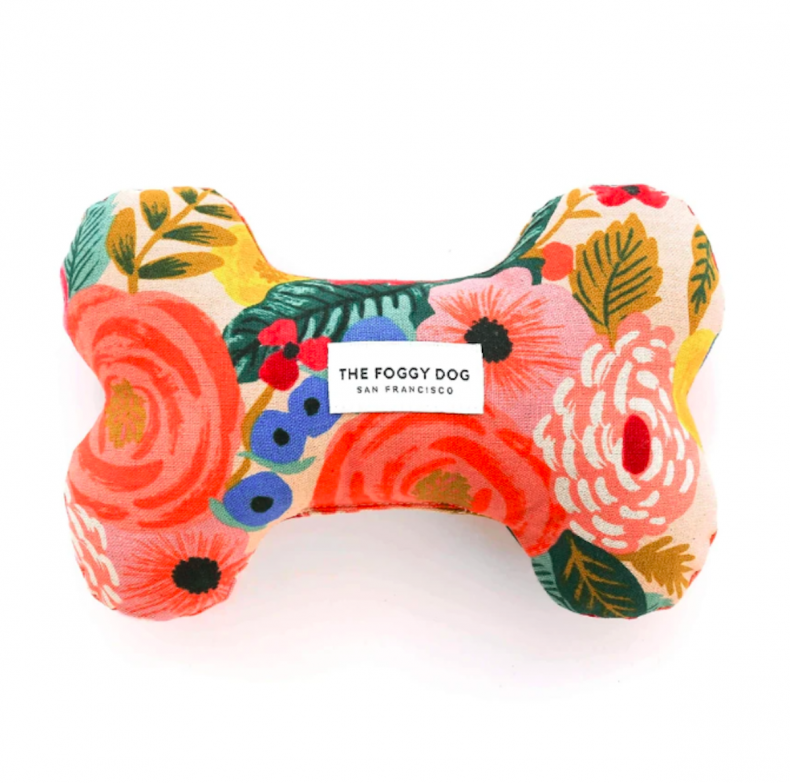 Have you ever seen a bone so pretty? The Foggy Dog makes bone-shaped squeaky toys that dogs really love, but their recent collection of patterned bones—like the Painted Peonies, above—looks like an expensive piece of artwork. We promise your dog will love it but you, the human, also won't mind if it's laying around. It's that pretty.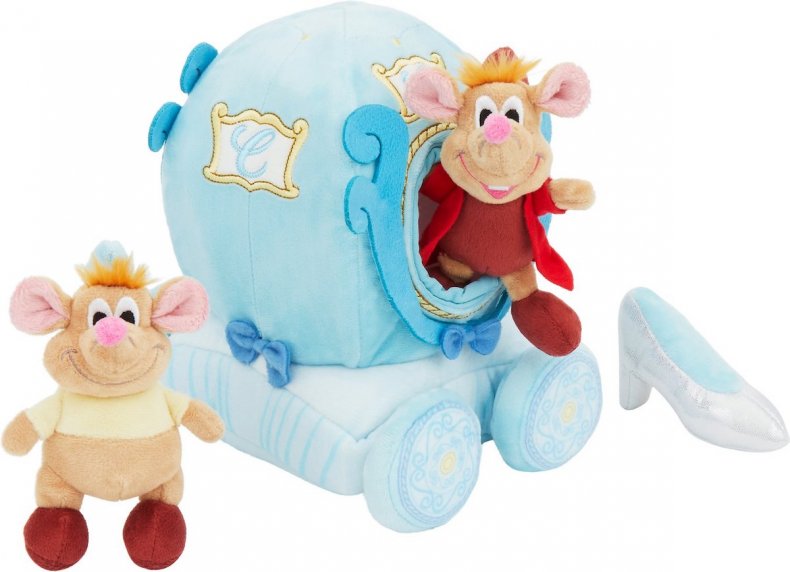 Some dogs prefer chews, others prefer rope toys—but if your dog will do anything for a hide-and-seek game, this one from Chewy's Disney Collection is worth the price of a one-of-a-kind glass slipper. Gus Gus, Jaq and, of course, the iconic heel are three teensy squeak toys that fit inside Cinderella's pumpkin turned coach. Stuff 'em all inside the coach, chuck it and watch your dog try to retrieve them for hours.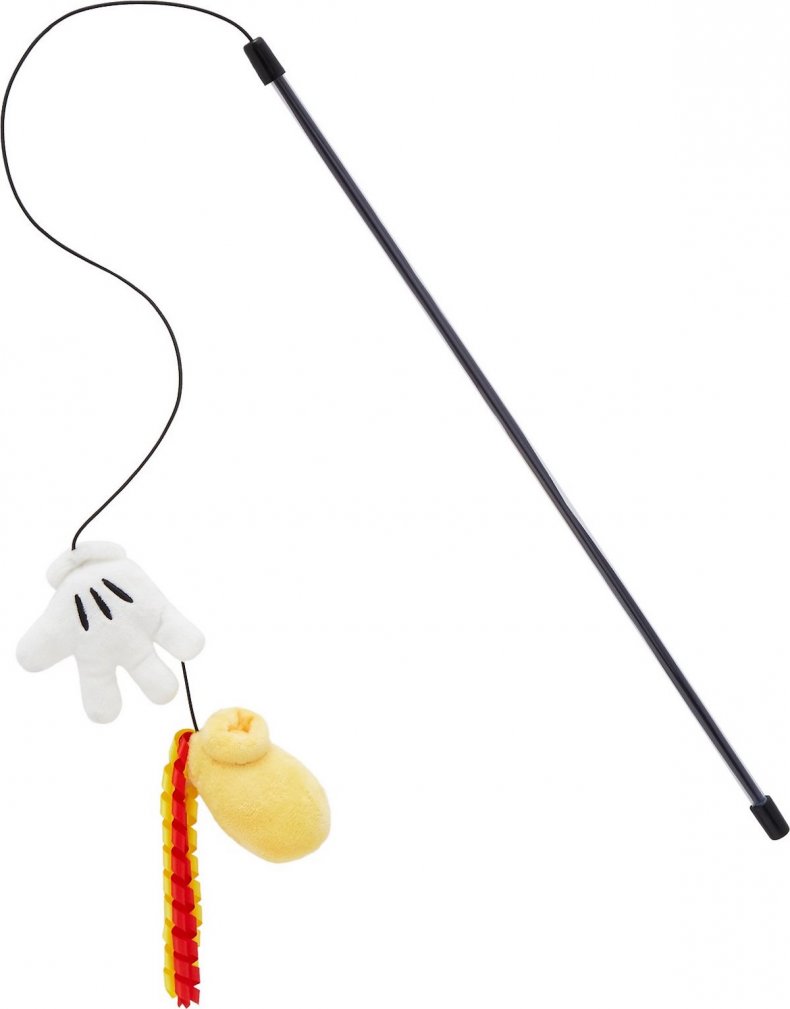 Thankfully, cats can benefit from the Disney Collection over at Chewy, too. One standout cat toy from the line is the Disney Mickey Mouse's Shoe and Glove Teaser Cat Toy. These kinds of teaser toys reign supreme for most cats, so it's no surprise that kitties glove this—um, love this.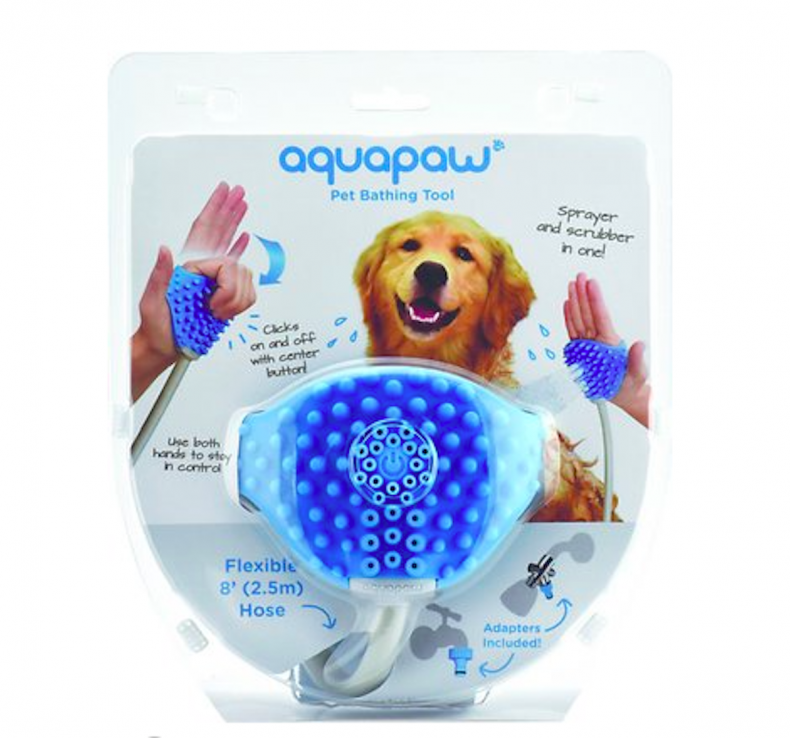 Dogs and humans alike love the Aquapaw, which makes bath time a whole lot easier. Imagine not having to fight your dog in the tub? Imagine being able to control the water while also still kind of "petting" your dog to keep them calm? This invention is a real lifesaver, and there's no fancy setup required. Just use the adapters to attach the 8 foot flexible hose to your faucet and scrub-a-dub-dub!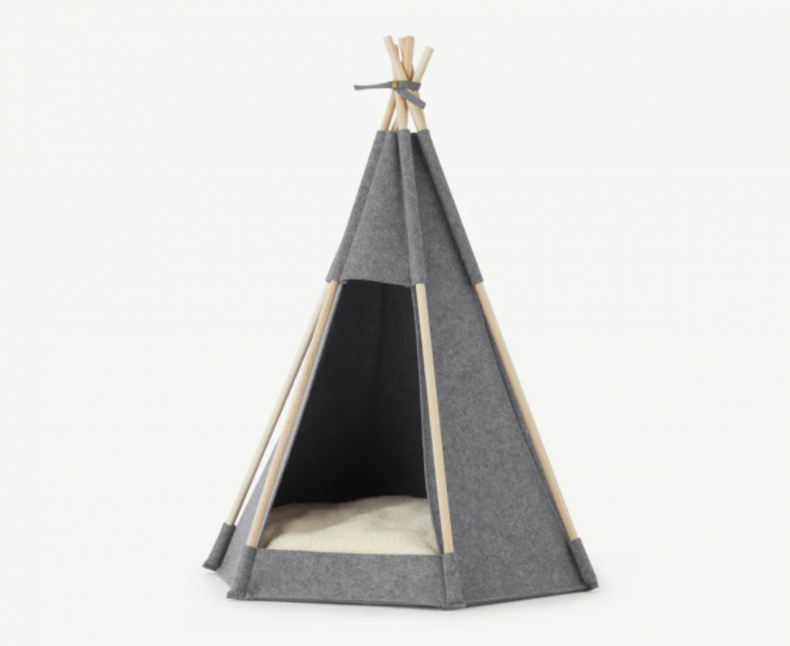 The perfect spot for both cats and smaller dogs, the Terri Pet Teepee from the U.K. provides a safe space for pets when they don't want to be seen (or heard as they snore).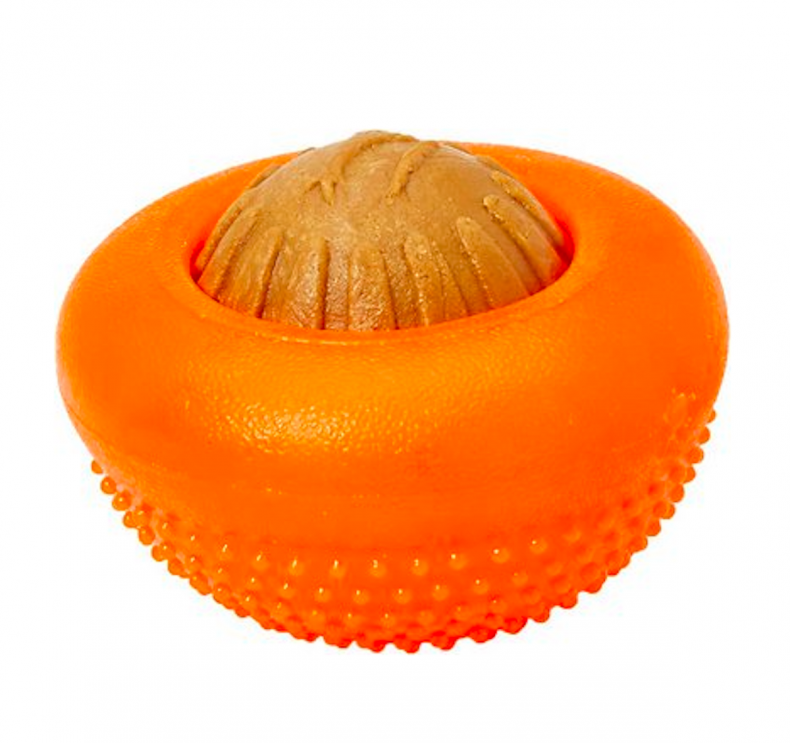 We'd be remiss to not mention a boredom-busting treat toy, as these things are lifesavers for pet parents who work from home, field phone calls or maybe just want some alone time. They also work great for helping dogs stave off separation anxiety, which we all know can sometimes become a real problem (especially now). The Starmark Everlasting Treat Bento Ball will last a heck of a long time and at just $14.30, it's definitely a worthy investment.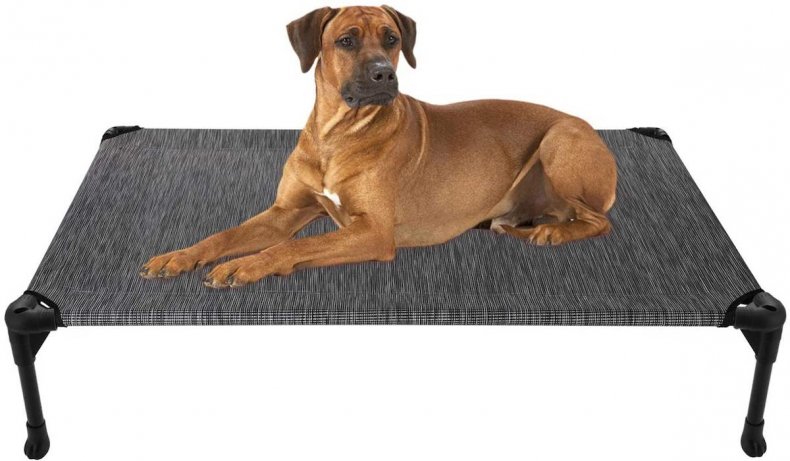 Let's face it, dogs have a lot more fur than we have, so they definitely experience a hotter summer than even we do. That's why they'll love the Vehoo Cooling Elevated Dog Bed. Made with heat-resistant mesh, it allows dogs to cool down enough to withstand the sun, whether you're out by the pool, on the porch, out camping or just inside on a hot day.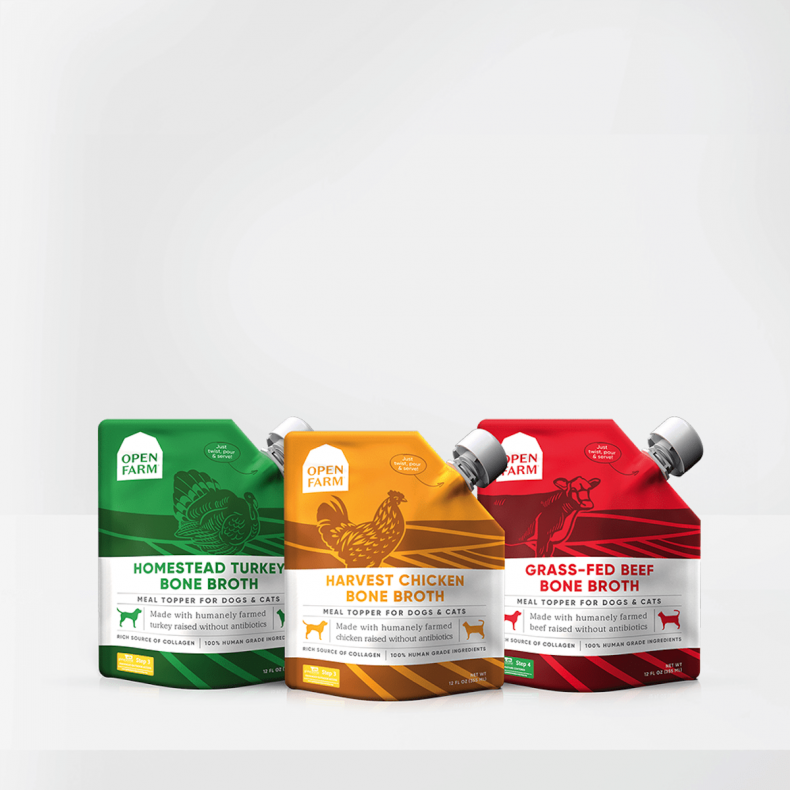 Made for both dogs and cats as a meal topper, the Bone Broth Bundle from Open Farms comes in three flavors: turkey, chicken and grass-fed beef bone broth. Pets love this stuff! Just pour it on top of their regular meals for a delicious addition as well as a high source of collagen that could help keep pets' coats sleek and shiny.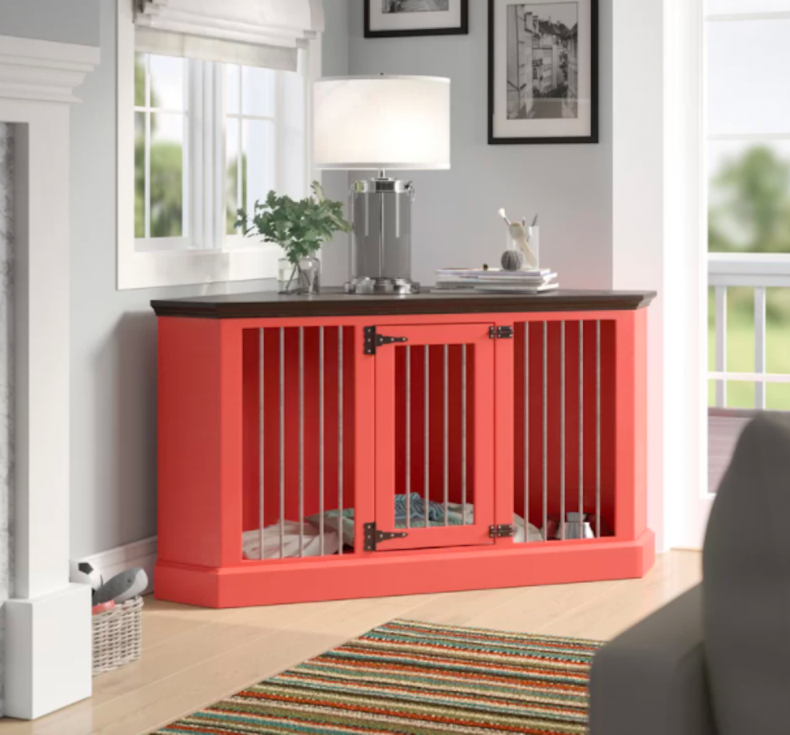 Sorry to state the obvious, but pet crates aren't always attractive. In fact, they can be a real eyesore if plucked in the middle of your living room or kitchen. But this one from Wayfair isn't just aesthetically pleasing, it also moonlights as a regular old piece of furniture—a corner credenza if you will! What's not to love about that?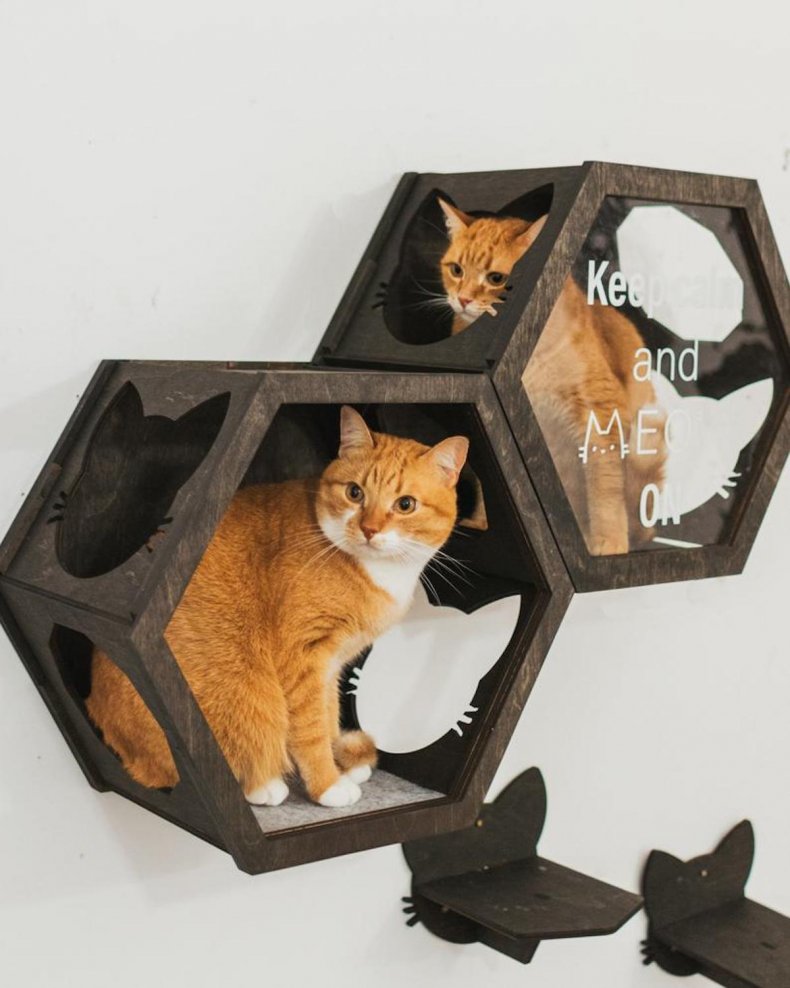 If your kitties love to climb, upgrade your cat-toy game with these handmade Hexagon Shelves over at Etsy. With cat-shaped entrances and exits, you'll have just as much fun watching your cats climb through these hexagons as they will have doing it.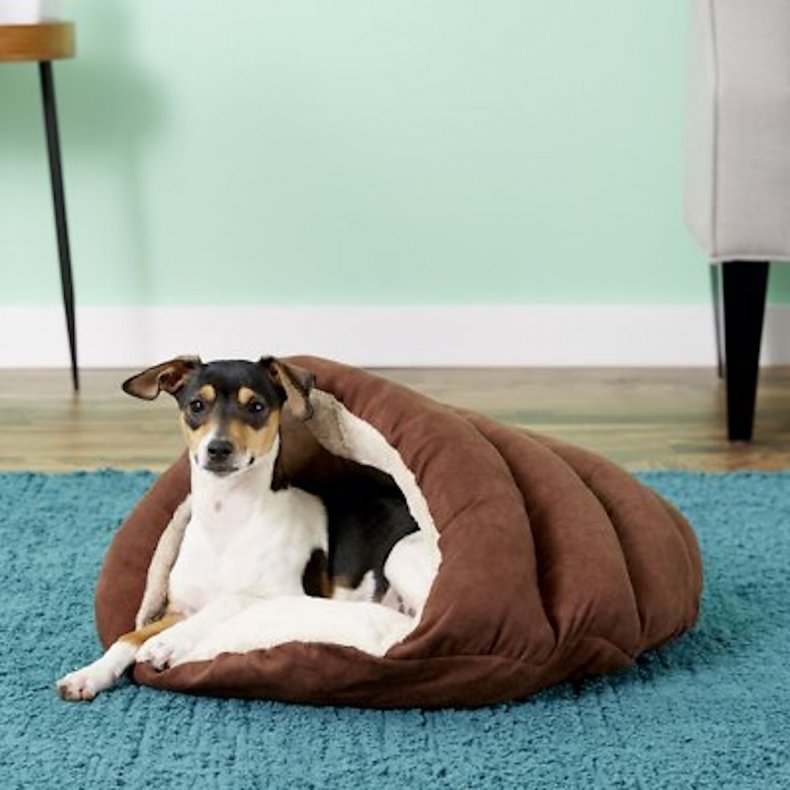 Similar in function to an anti-anxiety shirt for pets, the Cuddle Cave provides our littlest ones a safe and comfortable place to snuggle. Whether there's thunder, fireworks or your animal just wants to feel cozy, the Cuddle Cave creates that tight-spaced haven pets need.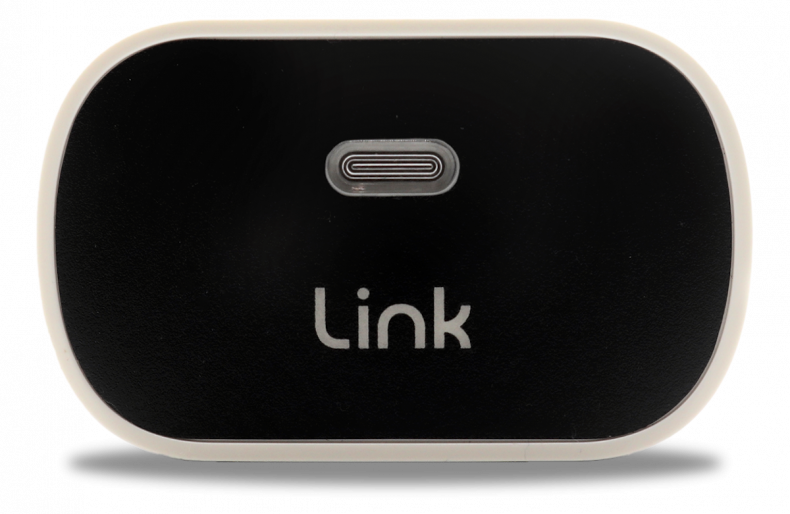 OK, so maybe this is more for you, the pet parent, but we promise your dog will still love what it means for them. After all, wearing The Link—a wearable tracker device—means a lot for the pawrent, but for dogs, it usually means more exercise and more walks! Let's back up a bit: The Link non-invasively attaches to a dog's collar and uses Verizon LTE to track their location as accurately as possible. If your pup's a runner or you just like to keep an eye on them, such technology really comes in handy. Apart from GPS features, The Link also monitors your dog's activity levels throughout the day—providing personalized recommendations based on their age, breed, behavior and size—has a tone and vibration training aid feature, and consolidates all your dog's health records in one neat place: the app. Plus, it's significantly less bulky than some of the other dog GPS trackers and/or wearables on the market right now.
Buy at Link for $135, plus subscriptions starting at $10 per month.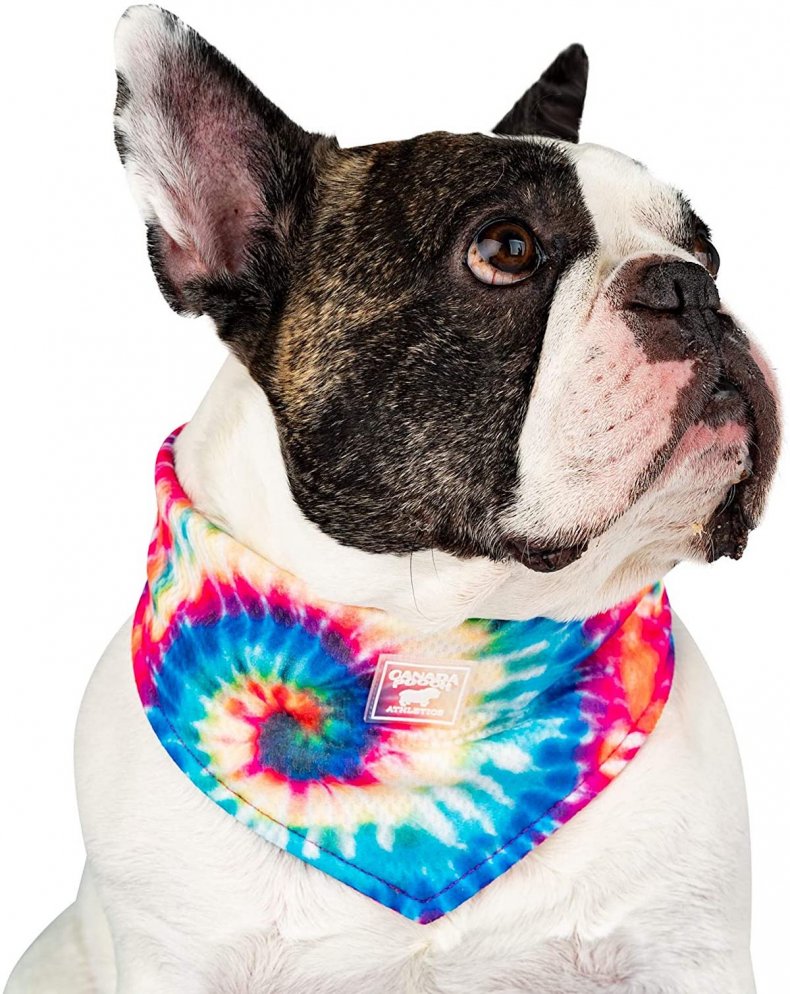 If the Vehoo Cooling Elevated Dog Bed is not your animal's cup of tea, there's always another cooling route to go and that's with bandanas. Canada Pooch makes some of the most popular (and frankly, adorable) cooling bandanas we've ever seen, and this tie-dye one is for sure a standout. Run it under the sink and the bandana's polyester-and-cotton material retains water to keep pooches cool as a cucumber—even on the hottest days.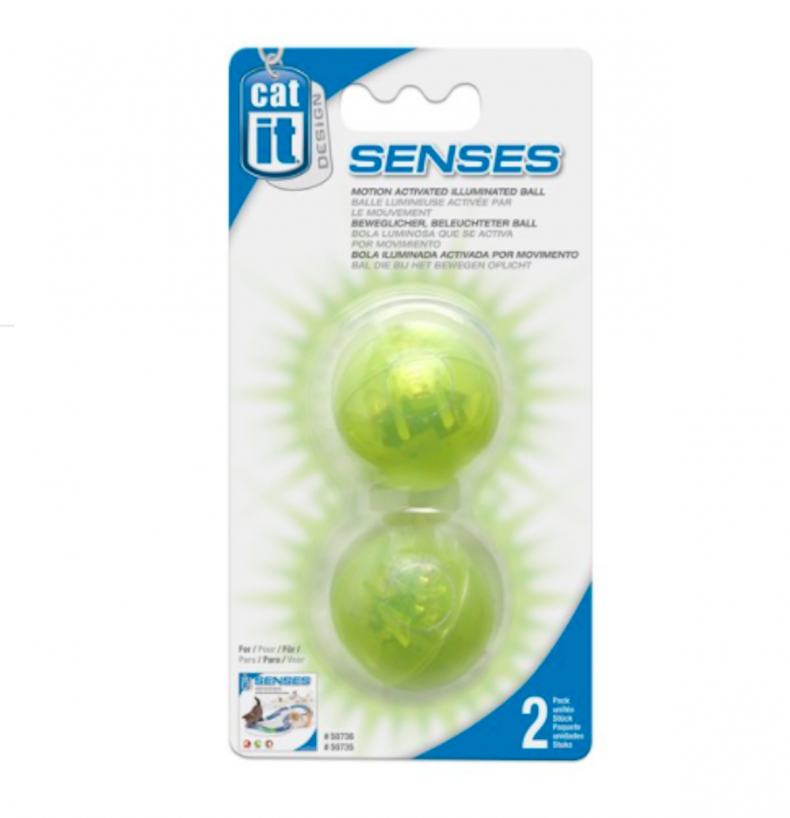 When it comes to catching your cat's attention, the Catit Design Senses Illuminated Ball certainly takes the cake. Available in a 2-pack, each ball lights up and is motion activated to keep your feline entertained all day long.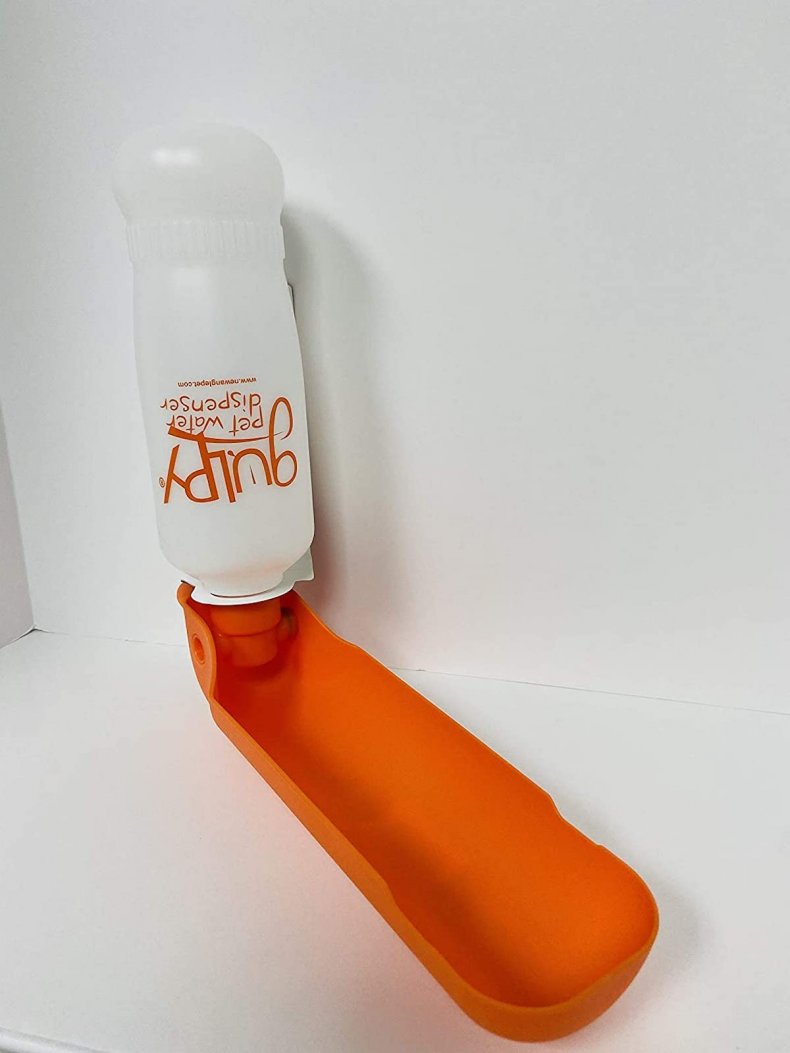 Humans and dogs both can appreciate the convenience of the Gulpy Water Dispenser. Better than any foldable or portable water bowl, the Gulpy dispenses water into a fold-out compartment that works just like a dish. Take it on a hike, long walk, the dog beach, park, on a car ride—wherever you may go with your pup.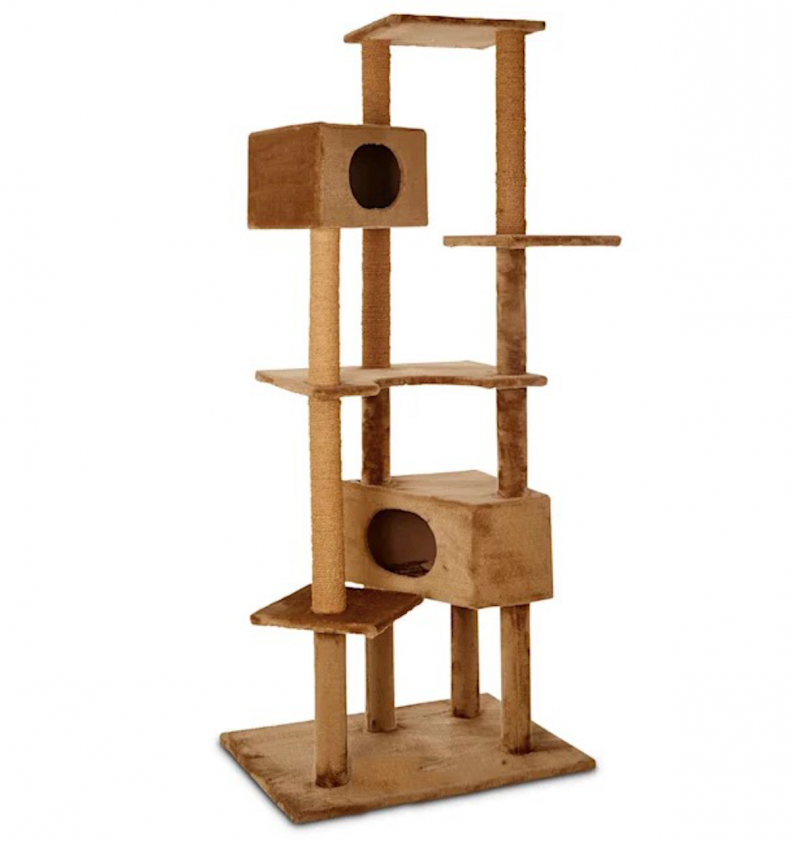 Most kitties aren't exactly afraid of heights, and if you've got an experienced climber on your paws—um, hands—then the Animaze 6-Level Brown Cat Tree is undoubtedly the way to go.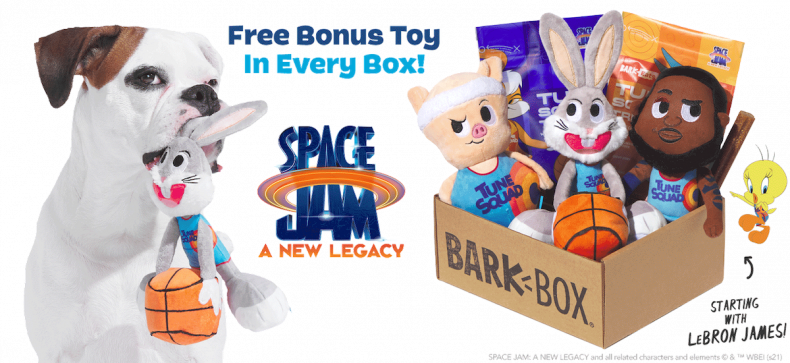 A fan-favorite pet products, particularly among dog lovers, is the BarkBox. It has several different plans available and works on a subscription model, but if you're not yet willing to commit to a months-long plan, check out the one-month purchase option for just $35. Even after just one month of getting this goody box delivered to your door, your dog will quickly start to think that all the mail is theirs.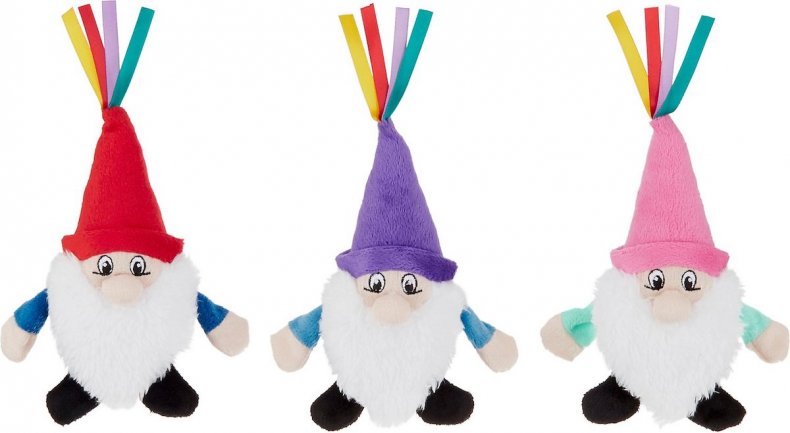 While we can neither honestly confirm nor deny whether or not cats love gnomes, we can attest to the fact that most cats love these gnome toys. Perhaps it's that they're filled with catnip and those trailing ribbons?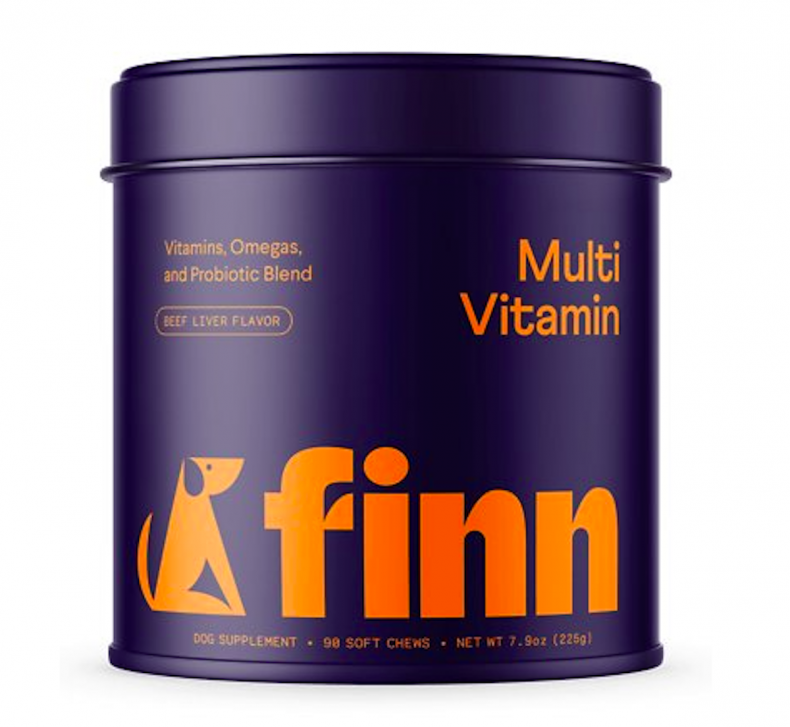 Every pet parent wants the best for their furbaby, and that starts with the food you feed them, but we shouldn't underestimate supplements, either. After all, many humans take multivitamins. Why shouldn't our dogs? Finn makes exceptional, healthy, high-quality supplements for dogs, but their multivitamin is specifically noteworthy. It's packed with viamins, prebiotics and Omegas, and tastes like beef liver. Not only do dogs love the flavor, but each product comes in a reusable, recyclable tin.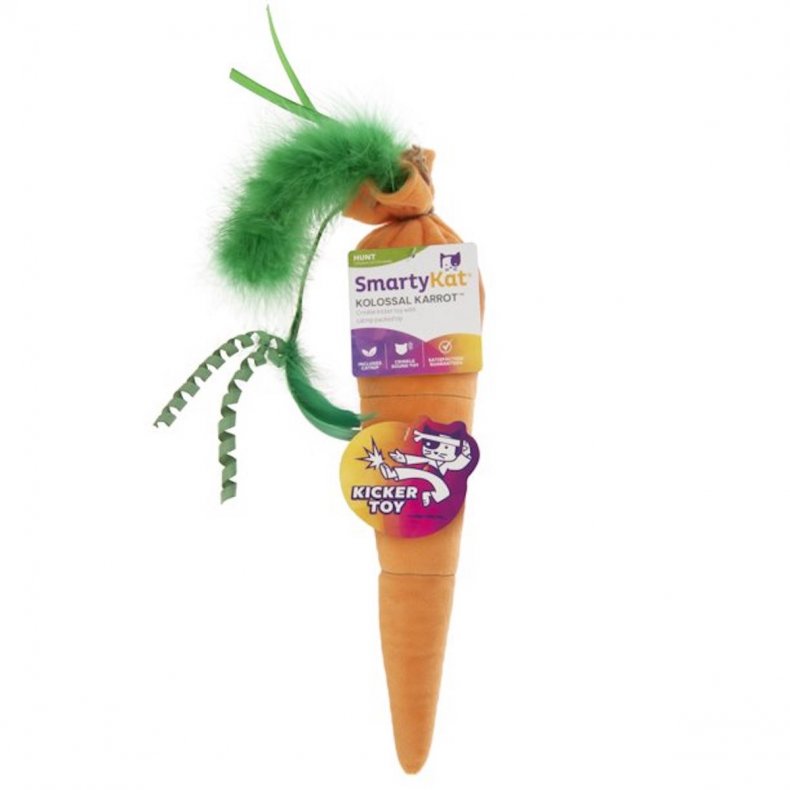 Kats love the SmartyKat Kolossal Karrot Kicker. First of all, it's furry, fluffy, feathery and ribbony—all things felines fawn over—and second of all, it crinkles upon being kicked, thrown and tossed around, making it every cat's favorite noisy toy.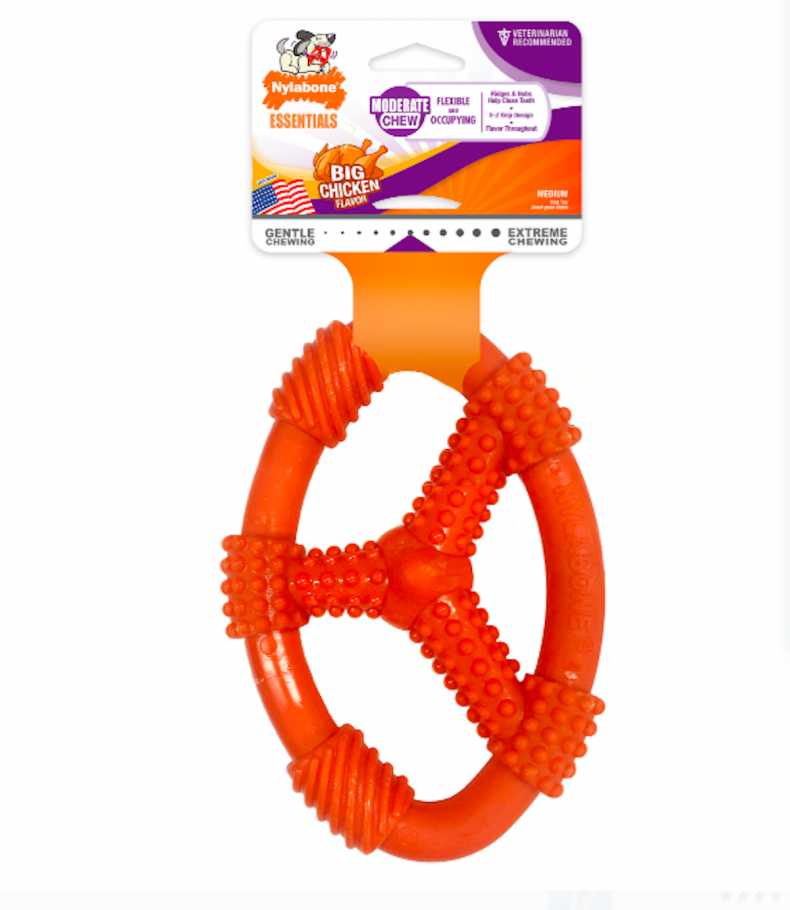 Speaking from personal experience, the Nylabone Moderate Chew Flexible Oval Ring lasts a long time (so far, four years), and it's still the favorite of the toy pile. It's pretty cheap (a big plus for budget-friendly pet owners), features raised bristles that actually prevent tartar buildup on doggy teeth and even discourages young puppies from destructive chewing behaviors.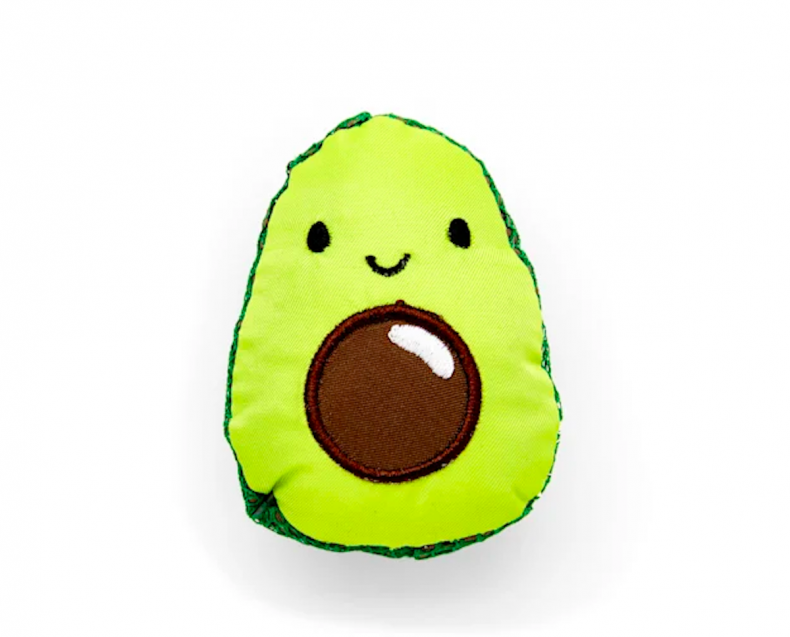 It may look like a simple avocado toy, but it's a best-seller at Petco for a reason. Kitties love this inexpensive little toy—maybe it's the netting on the back or maybe it's the avocado's happy expression. Or, you know, maybe it's the catnip!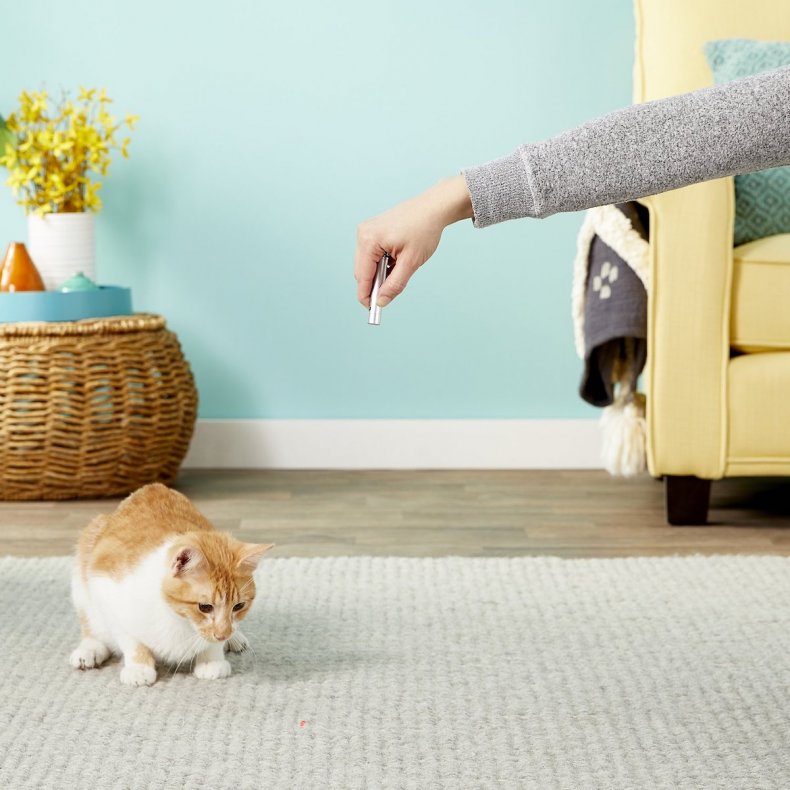 Cats love lasers! This much is true. For less than $4 bucks, every cat owner should snag one of these. (Pro tip: Some dogs with a high prey drive actually like lasers, too!) With a safe LED light, this laser-exerciser can be used either indoors or outdoors, and sends most pets on a wild chase as it bounces around.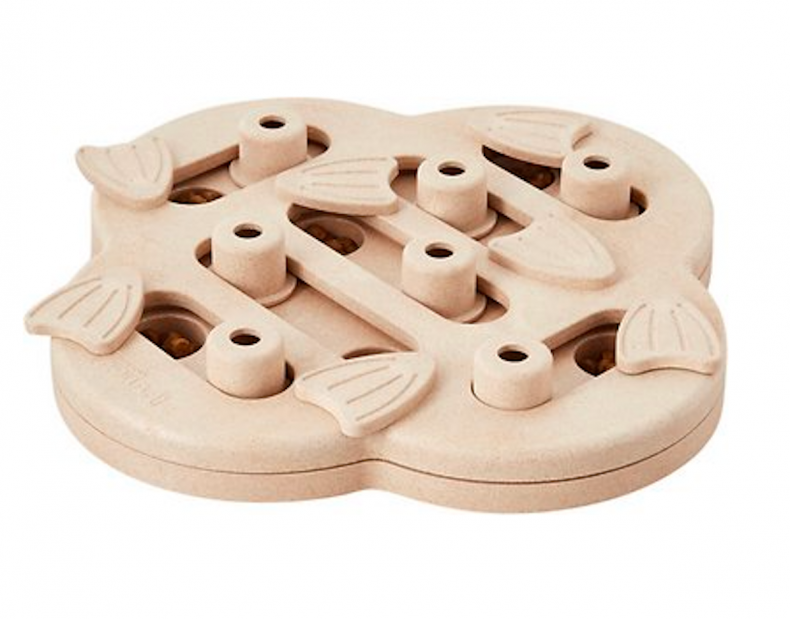 In addition to your standard chew and squeaky toys, puzzles are great toys for dogs. Especially if your pup suffers from separation anxiety, experiences boredom quickly or doesn't get much exercise throughout the day, treat puzzles can stimulate your dog's mind and keep them actively working in place instead of resorting to destructive behaviors. Simply place a small training treat in each spot, then cover the slots. Your dog's brain works overtime to figure out the puzzle in order to get to those delicious-smelling treats!
Critter Sitters Pet House Ottoman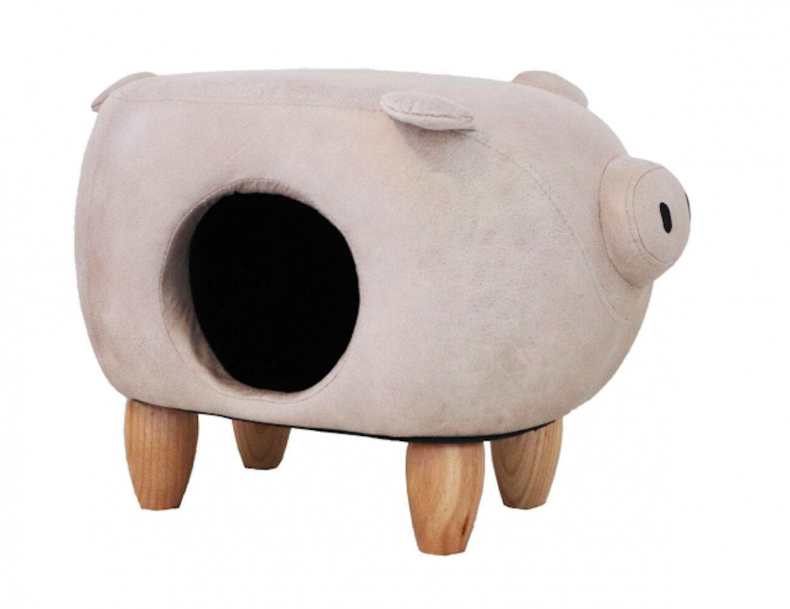 Even if your family pet isn't a pig, you may find yourself falling in love with this adorable oinker. It's actually part ottoman for human feet, part pet house. See that hole on the one side? Small dogs and kittens alike can climb up in there for a quick catnap. But here's what you'll love most about it: It doesn't sacrifice style. Sure, it's shaped like a pig, but in the grand scheme of pet homes, this one is actually pretty chic!
Newsweek may earn a commission from links on this page, but we only recommend products we back. We participate in various affiliate marketing programs, which means we may get paid commissions on editorially chosen products purchased through our links to retailer sites.