With National Pet Day coming up quickly on April 11, pet paw-rents everywhere wonder how they can pamper their beloved fur babies in a special way. The answer? You traveling with your pup, of course! A recent Expedia survey found that 97 percent of travelers plan to bring their pooches on upcoming trips. After all, who says a dog can't have a case of wanderlust?
11 Pet-Friendly Hotels With Perks for Your Dog
If you're planning to travel with your dog on National Pet Day or just want to pamper them silly, check out 11 of our favorite hotel brands offering luxurious stays and packages for four-legged guests.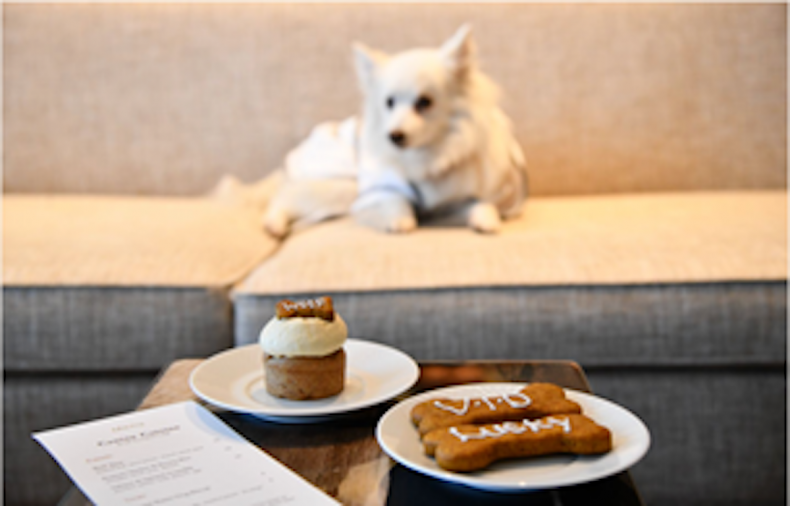 All room types at the Lotte Hotel Seattle—excluding the Presidential Suite—are now eligible for the most pet-friendly add-on: the Puppy Pampering Package. This unique stay starts at $500 and waives the hotel's usual $100 pet fee. You'll get a slew of adorable, Instagram-worthy amenities like a luxurious dog robe, dog treats, a dog bed, two bowls for food and water, complimentary waste disposal bags, and a $100 food and beverage credit for both doggos and humans and more. In your room, you and your pup will also find a city guide to Seattle featuring the most dog-friendly spots the city has to offer. As if the experience weren't bougie enough, the Puppy Pampering Package also includes "Canine Cuisine"—an elevated in-room dining dog menu featuring three entrées and two treats specially prepared by Lotte Hotel Seattle's Executive Chefs.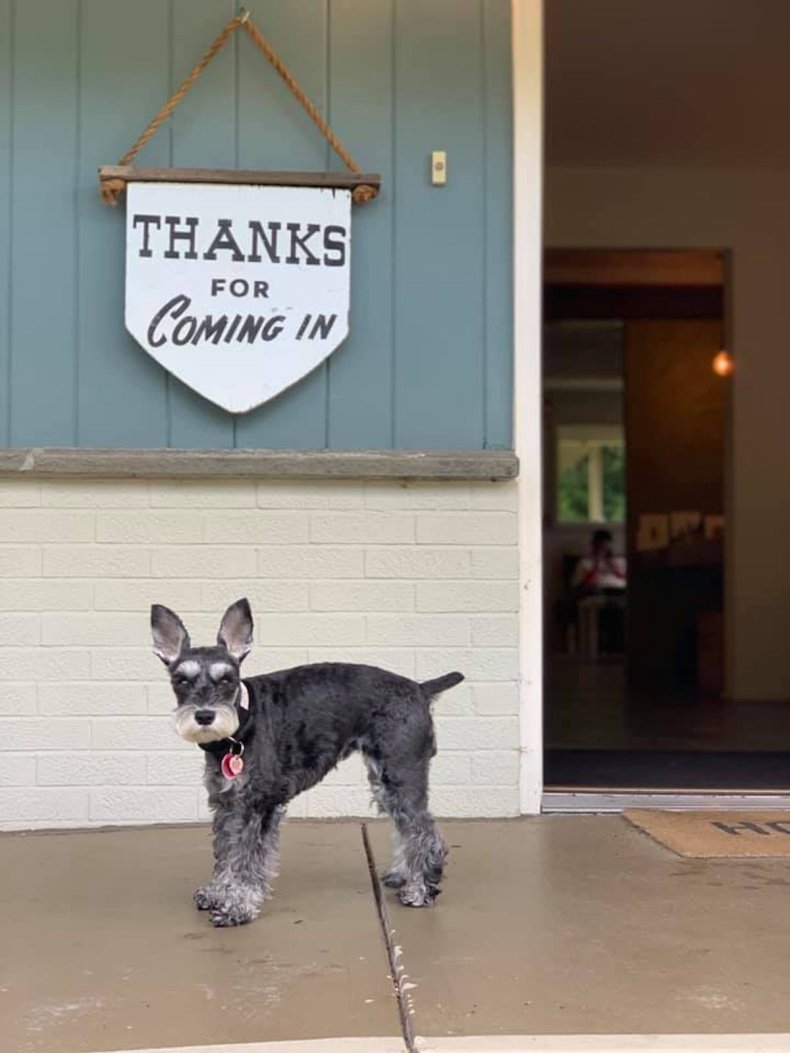 On the entire other side of the country in Great Barrington, Massachusetts—nestled right in the Berkshires—The Briar Cliff Motel appeals to pet owners. On the lobby wall, when you walk in, you'll immediately notice a gallery of Polaroids of all the motel's past doggie guests. But pet-friendly accommodations aren't the only draw. Surrounding Briar Cliff Motel, you and your pooch will find lots of pet-friendly outdoor activities to take part in—hiking, biking and more. But best of all, Briarcliff Motel will never charge you pet fees on new bookings, making it truly a dog-friendly destination.
Book at TheBriarCliffMotel.com.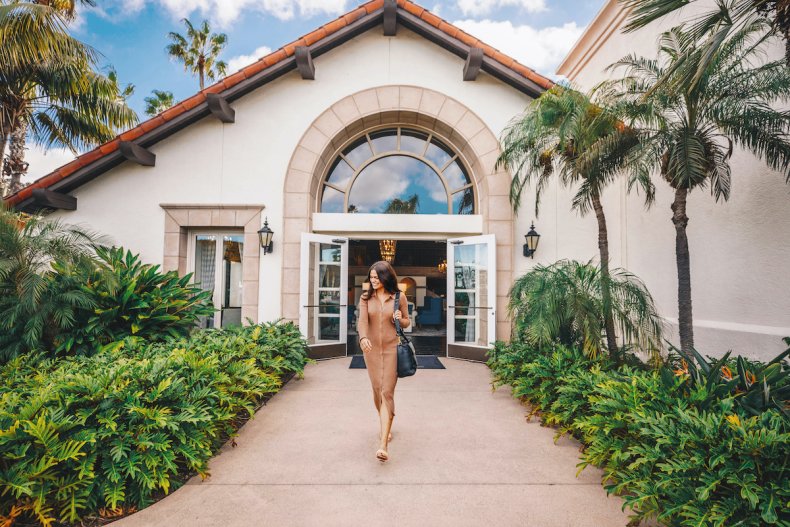 Located in San Diego, California, Kona Kai Resort and Spa recently announced the launch of its Noble Paws Program. This program is quickly becoming a fan favorite amongst pets and their owners alike! Pamper your pup with a 25-minute Furry Flex muscle stretch massage (by certified pet-massage therapists) and a menu specifically designed for dogs—called their Pooch Provisions Plates. Dogs can enjoy a Konai Kai Resort and spa-branded dog bed, food, and water bowls inside the room. You can also make additional purchases and find branded toys and other amenities in the lobby.
If that didn't already sound too good to be true, Konai Kai also donates 10 percent of all their pet-related proceeds to the San Diego Humane Society. Paw-fection!
Over in Austin, Texas—one of the most pet-friendly cities in the U.S.—Omni Barton Creek Resort and Spa is becoming a must-visit for pet parents. Not only does the hotel welcome all pets (though their website specifies "non-dangerous" pets), but Omni Barton Creek also offers fun, engaging amenities. You can enjoy dog-friendly outdoor dining patios and a nearby nature trail perfect for hiking and walking with your dog. But that's not all—when you and your pooch check in, Fido will receive a branded tennis ball as a gift, and the accommodations even come with pet bowls, a mat and a toy.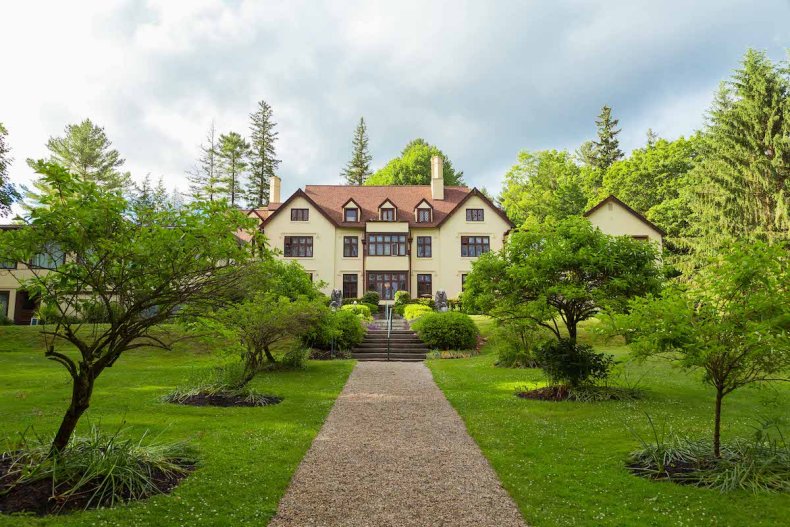 The Seven Hills Inn sits upon 27 acres of pet-friendly lawns and gardens in Lenox, Massachusetts. A historic mansion with three individual buildings—Manor House, Carriage House and Terrace House—Seven Hills is situated not far from some pet-friendly hiking destinations like the Appalachian Trail and Mount Greylock, Kennedy Park and Tyringham Cobble—a 2-mile running trail 400 feet above Tyringham Valley. Doggie guests are an additional $75, plus tax—a flat rate for the duration of your stay.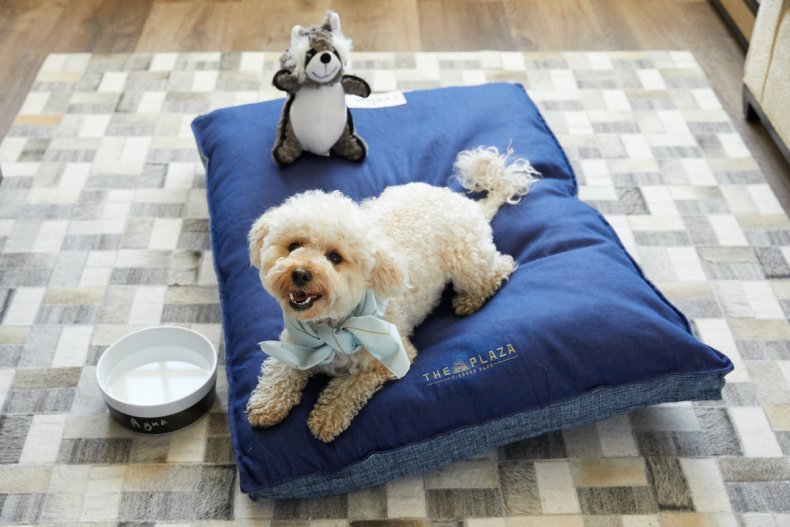 At the Plaza Hotel Pioneer Park in El Paso, Texas, four-legged guests are treated with as much care as human guests. Upon arrival, this Independent Collection Hotel and Resort showers furry friends with gourmet treats and a commemorative pet banda—a pet bed, food and water bowls are provided for use. Owners can also buy additional amenities, like Happy Tails toys. Perhaps our favorite Plaza Hotel Pioneer Park Offering is its unique, pup-friendly take on Happy Hour. Called Yappy Hour and offered every Sunday at the rooftop bar, La Perla, where you can treat your pet to two treats made by the in-house pastry chef. (Human guests are encouraged to indulge in La Perla's famous mimosas!) And should you be looking for more dog-friendly activities to take part in during your stay, the Plaza concierge team is always available to offer their favorite recommendations—from activities and parks to restaurants that allow dogs as well.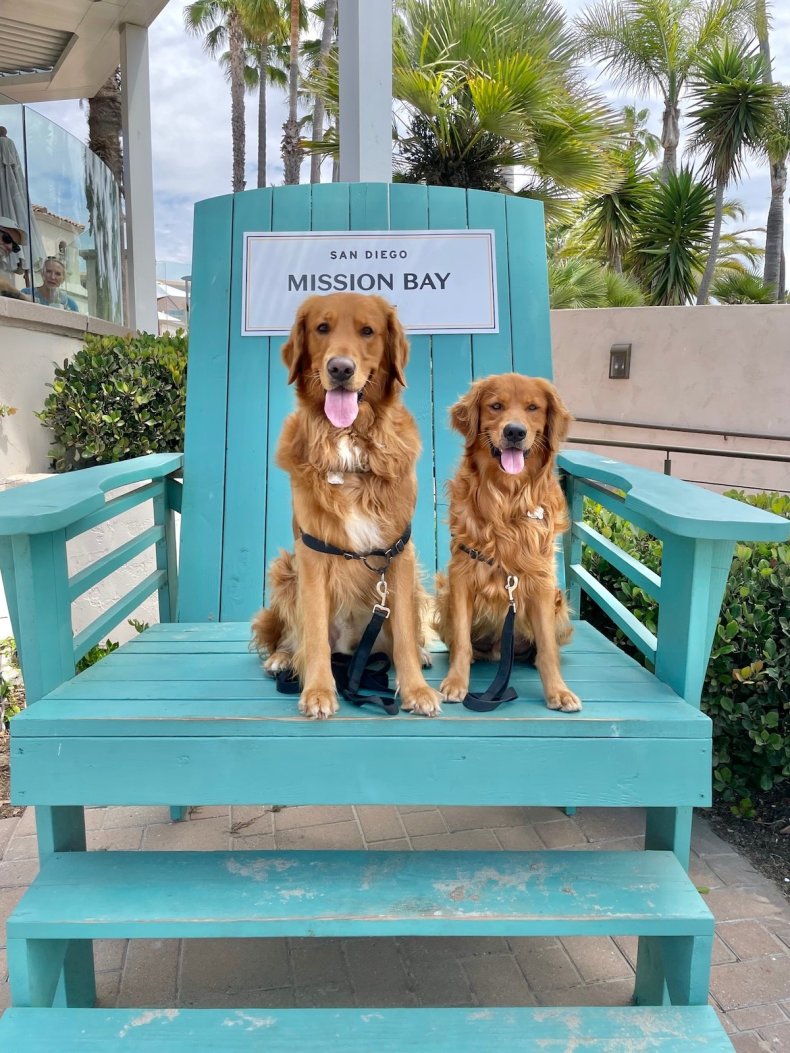 At San Diego Mission Bay in California, the mission is clearly to create a puppy paradise. It also offers a Yappy Hour (at which dogs will be delighted to find treats!) and pet-friendly programs like Dog Days at the Bay. There are also doggie daycare options for those pet parents who want to explore San Diego off-leash for a bit. When checking in to San Diego Mission Bay, your dog's name will be listed on the furry friends' board in the lobby, which is just begging to be Instagrammed. Nearby, there are plenty of dog beaches and pet-friendly outdoor restaurants to check out, too.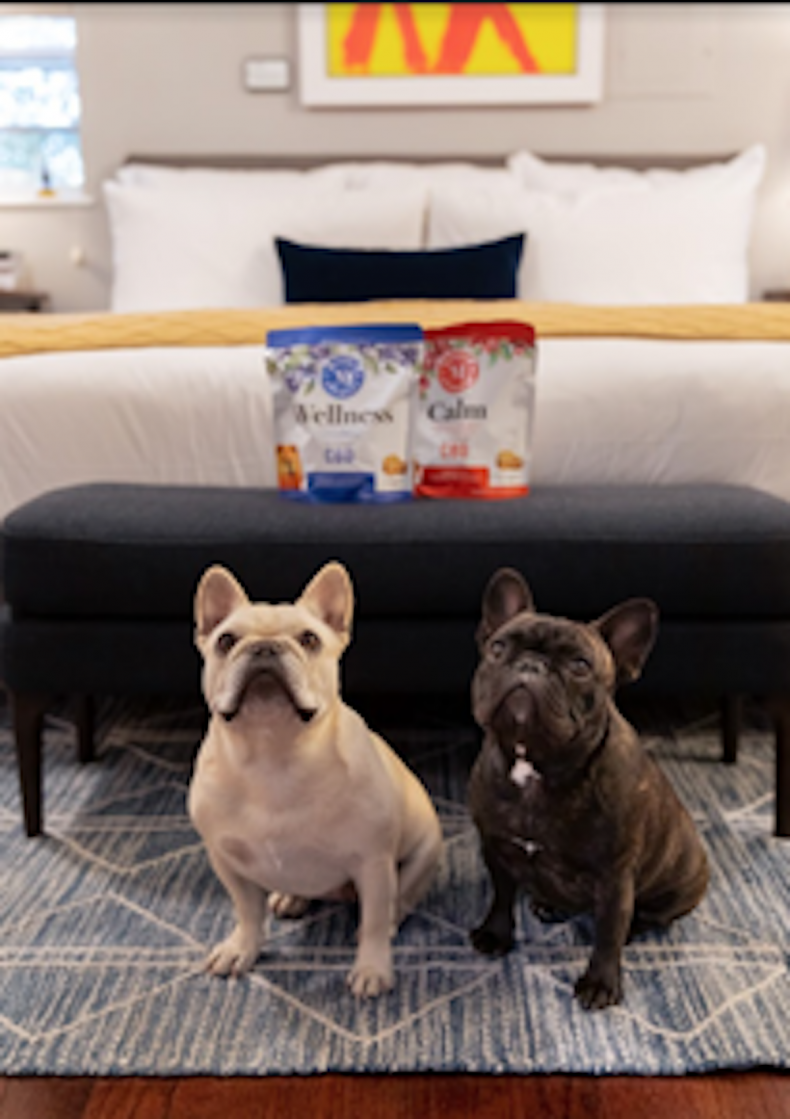 At Applewood Manor in Asheville, North Carolina, you'll find a pleasant collaboration that dog owners and dogs themselves are sure to love. In Applewood Manor's designated dog-friendly lodge, The Cortland Cottage, pet owners will receive a 30-count bag of Martha Stewart CBD for Pets as part of Applewood Manor's collab with Martha Stewart's new line. Dogs get the choice between Wellness: Chicken and Blueberry Flavor Soft Baked Chews or Calm: Chicken and Cranberry Flavor Soft Baked Chews. The hotel owners also have their dogs on the premises—two French Bulldogs named Cleopatra and Pearl—who love to play with other pet guests.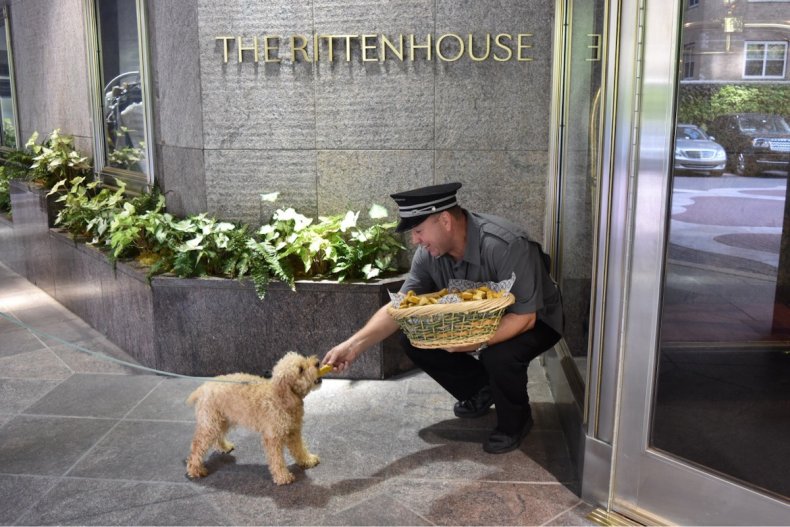 In Philadelphia, Pennsylvania, The Rittenhouse will treat your dog like a king or queen. An Independent Collection Hotel and Resort, the Rittenhouse has some of the largest accommodations in the area, so your pet can comfortably roam around at leisure… even if they come down with a case with the zoomies! Called VIPs—Very Important Pooches—doggie guests receive a complimentary personalized pet bowl and a bag of dog-friendly goodies upon check-in. The concierge can also arrange dog-sitting and dog-walking services for an additional fee. In your room, you'll even find a pet dining menu featuring gourmet dishes like Love Bites (chicken jerky) and Puppy Love (bacon cheddar biscuits), Gourmet Selections such as MUTT'za Balls (organic chicken and brown rice balls) and Some-PAW-dy Loves Me (filet mignon, rice, steamed carrots).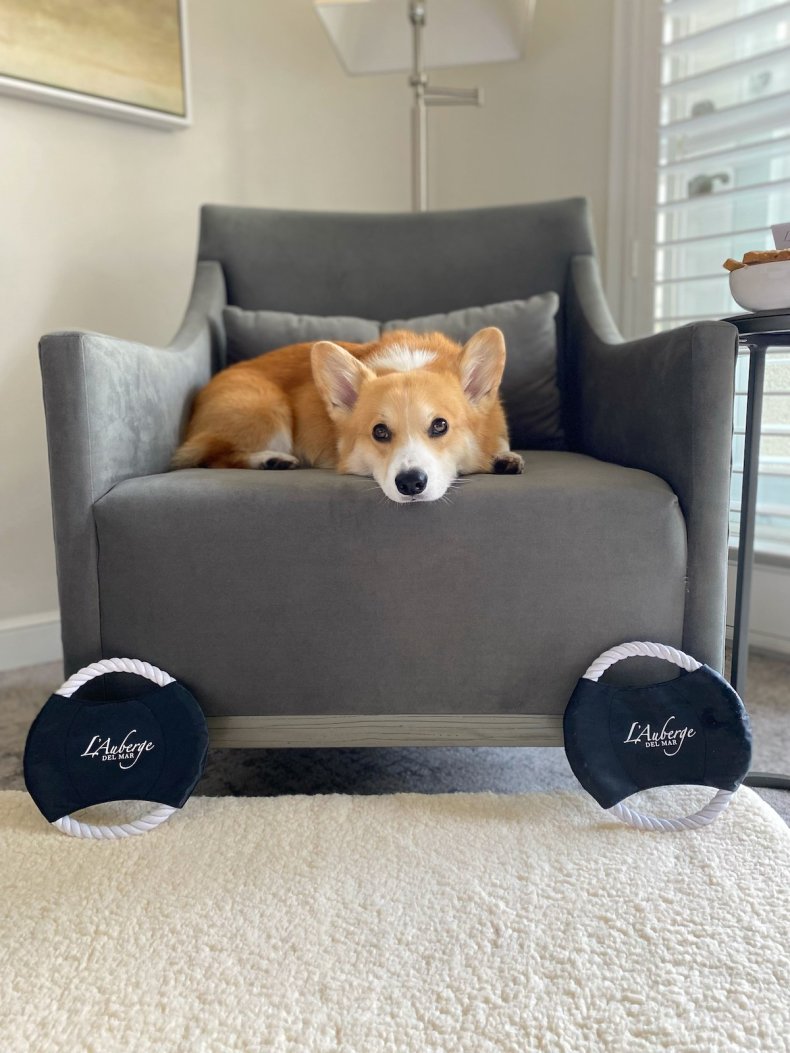 L'Auberge Del Mar is a luxury resort located in Del Mar, California, for both people and pets alike. As part of their Pooch Program, four-legged guests receive a branded bandana upon arrival, and their humans get a special door-knob-hanger to alert other guests (and staff!) that there's a dog inside. In the room, your dog can eat and drink from L'Auberge-branded bowls and play with branded toys. Just a drive away from the local Del Mar dog beach, L'Auberge also offers dog-sitting and even grooming services to provide the most high-class experiences for all its guests—four-legged or otherwise.
Opening in Wilson, Arkansas, in May 2022 and maintaining a pet-friendly ambiance is always a goal of luxury boutique hotel, The Hotel Louis. Located in Historic Town Square, the Tudor-style property is named for King Louis Lorenzo Tudor, the Frenchie who inspired it all. The Hotel Louis offers a special Paws and Stay A While VIP program that includes doggie treats, a leash, a dog collar, high-end dog bowls and other in-room upgrades like a luxurious dog bed. As part of their pet policy, there is a $75 pet fee; however that fee is always waived for ADA-compliant service dogs.
Newsweek may earn a commission from links on this page, but we only recommend products we back. We participate in various affiliate marketing programs, which means we may get paid commissions on editorially chosen products purchased through our links to retailer sites.