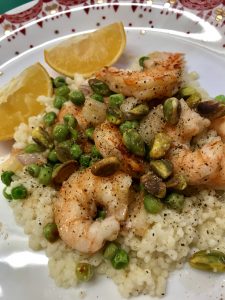 It is New Year's and I have been AWOL throughout this holiday season. Time to get my groove back, as we used to say, or in other words, FOCUS.
I didn't prepare the usual holiday foods and, frankly, it was liberating! I have been cooking for two and it isn't conducive to big, multi-dish meals. Yes, I expect leftovers, but not so many that I run out of fridge space, or worse, waste food.
However, I didn't entirely slide. I used my celebration dinnerware and one of the Christmas tablecloths, albeit, the more casual, hand-stamped and hand-painted French textile. It was especially appropriate with this year's French-inspired Christmas dinner.
I did cook with some traditional ingredients, just in a different fashion, and it was fun.
On past Christmas Eves, when there was a crowd, we always prepared the Feast of Seven Fishes. This year, we used just shrimp, but in a new way.
On Christmas morning, we enjoyed fresh, warm, homemade cinnamon rolls, courtesy of Crystal Blackmon, served with cinnamon-tinged coffee. Nothing better!
No turkey or ham with all the sides for Christmas Day. Instead, I made a Provencal beef daube (stew) that was served over egg noodles along with a simple spinach side salad topped with a special Ashe County French-style cheese from Evan Ferguson.
I had some fun with fresh cranberries and Brussels sprouts, with roasted nuts and nut oils too.
New Year's Eve supper was lemon and gorgonzola fettuccine with a green salad. In a nod to the great need to usher in good luck in the New Year, pork chops with red kraut and potatoes were on the table for New Year's.
Desserts have been simple, too. We have a variety of cookies and an amazing Pecan, Honey, Rum Cake from Vivian Howard's Handy and Hot that is heavily infused with Kill Devil Hills Pecan Honey Rum. It is sweet and rich enough that small slices suffice, and it is getting us through the season.
My grandest plan never came off, though. In an act of Thanksgiving for the wild birds that bring so much pleasure, I made edible ornaments to hang from the trees out front. They turned out fine, but the weather was uncooperative, so on nice afternoons, I have been sprinkling them around the lawn near the bird feeders. They are being eaten, but I can't say by what! Like much of the village, we are an informal feeding station for a variety of wildlife.
Details of some of these dishes will follow, but first, let's see what friends have been fixing.
Many have replied that they, too, are "just two of us" this year and keeping dinner uncomplicated. Here is a tantalizing sample:
Spinach lasagna, clams, and cookies on Long Island
Filet, baked potato, broccoli, and homemade cheesecake on the lanai in West Palm Beach
Closer to home were mashed potatoes, mac and cheese, ham, cheese biscuits, and a whole box of Christmas cookies (Note there is not a single vegetable to be found on the menu!) Dare I reveal the identity of my editor?
Honey ham, baked Brussels sprouts, dinner rolls, and poppy seed rolls imported from Pennsylvania
Prime rib, brussel sprouts with cranberries, bacon, and pecans, baked potatoes, roasted carrots, sweet potato pie with whipped cream. (someone went to a lot of trouble, Claudia!)
Apple Ugli French Toast that inspired me to do the same with pannetone
And from across the sound, seafood boil and oysters
Quite a variety, no? I look forward to hearing what they will be eating next year. I doubt I will return to the complicated again!
Before we get into recipes, I would like to take a moment to express my love for our community and its wonderful generosity. Those who could stepped up to assist with the terrible Buxton fire tragedy, and have donated to the Food Drive, and to the Cape Hatteras United Methodist Men in this crisis.
I'm also grateful for the community's generosity to us, not because we are in need, but because folks wanted to express their affection. From the simplest gifts, (like a little rubber ducky with a Merry Quackmas tag, a fragrant bouquet of much-loved fresh parsley, baked cheese and honey from Ashe County), to the complicated, (like a variety of homemade lemon curd, pickled hot peppers, and hibiscus syrup, dark and white chocolate peppermint bark, homemade cinnamon buns – to name only a few), my porch table was an altar devoted to kindness.
There are other signs of hope around us now: a snowy owl has been seen on Pea Island along with the swans, snow geese, and white pelicans and other wildfowl. We just enjoyed the rare conjunction of two planets. Yes, the prime night was not ideal here but we were still able to see just how close they were to each other and to us. The full moon that is closing the year out felt as if it was in our homes. Sunsets, moonsets, sunrises, moonrises were spectacular, and their coloration defy description. Gorgeous or dramatic skies every night!
Artificial light was also incredible! Many homes on the island were lit to the nth degree, making for festive evening drives. Hatteras village was decorated better than ever, and produced what I hope will be an annual event – the breathtaking lighting of the nature preserve village park on Eagle Pass. A walk on the elevated Sea Breeze Trail at night was like walking through wonderland! The maritime forest and salt marsh were covered with little sparkling lights, deep into the vegetation. I have never seen anything like it!
OK, on to recipes.
CHRISTMAS EVE SHRIMP
1 pound shrimp, cleaned and deveined
1 cup couscous
1 cup peas
1 tablespoon pistachio oil
1 tablespoon pistachios, roasted
grated orange rind
juice of 1 orange
Kosher salt and fresh ground black pepper
Cook the couscous according to package directions.
Dry roast the shelled pistachios
Season the shrimp with salt and pepper
Saute the shrimp and peas in pistachio oil
Add orange juice and cook only enough to warm the blend.
Ladle the shrimp over couscous. Sprinkle with the pistachios and grated orange peel.
Serve with orange quarters.
ROASTED CHICKEN WITH FRESH CRANBERRIES AND FRESH ROSEMARY
4 chicken breasts
2 cups fresh cranberries
1 large shallot
4 short rosemary stems
Kosher salt and fresh ground black pepper
Pre-heat oven to 350F
Line a half-sheet pan with parchment paper and pour about a teaspoon of vegetable oil on it.
Season the chicken breasts.
Slice the shallots.
Place chicken, shallots, rosemary, and cranberries on the pan.
Roast for about 30 minutes, depending on the chicken breasts' thickness, until internal temp reaches 165F.
EASY BRUSSELS SPROUTS AND CRANBERRIES
1 bag frozen baby Brussels sprouts (I prefer them to fresh.)
2 cups fresh cranberries
Good honey to taste
Walnut oil, about 1 teaspoon
Thinly sliced red onion, about 1/4 of a small onion
S & P
Place all the ingredients into a small non-stick frying pan and cook over low-med heat until sprouts are easily punctured with the tip of a paring knife and cranberries have softened and release their juice.
PROVENCAL DAUBE
This recipe is more complex and takes some time, so I make it ahead. It tastes even better when it has had time to blend and freezes well. Keep in the fridge for about 3 days and in the freezer for 2 months.
4 slices thick-cut, smoked bacon, cut into 1-inch wide pieces
3 1/2 pound beef chuck roast, fat and sinew removed, cut into 2 to 3 inch cubes
2 tablespoons canola oil
S & P
2 yellow onions or 1 Spanish onion, quartered and thinly sliced
6 shallots, thinly sliced
1 garlic head, papery peel removed and garlic sliced in half horizontally
2 pounds carrots, trimmed, peeled, and halved or quartered depending on thickness
1/2 cup cognac or other brandy
1 bottle of fruity red wine
1 cup beef broth
fresh herbs – thyme, flat-leaf parsley, rosemary, lavender or dried Herbes de Provence
Preheat oven to 350F
Chop 1/2 the fresh herbs and add to a small bowl of flour with salt and pepper.
In a heavy pot, preferably a Dutch oven, cook the bacon pieces over medium heat until the bacon browns.
Remove bacon and place in a bowl.
Dry the beef cubes in paper towels and toss with the flour mixture.
Add 1 tablespoon of oil to the bacon fat in the Dutch oven. Bring to medium-high heat and brown the beef, in small batches, on all sides, until each piece gets good color. Transfer the browned meat to the bowl with the bacon.
Pour off the oil in the pot but leave the brown bits stuck to the bottom.
Add the remaining tablespoon of oil and warm it over medium heat. Add the onions and shallots. Season lightly with S & P and cook, stirring, until the onions soften, about 8 minutes.
Toss in the garlic and carrots and give everything a few good turns to cover everything with a little oil.
Pour in the brandy, turn up the heat, and stir well to loosen the browned bits on the bottom. Let it boil for a minute.
Return the beef cubes and the bacon to the pot. Pour in the wine and toss in the rest of the herbs, enclosed in a piece of cheesecloth.
Now, give it another good stir.
When the wine comes to a boil, cover the pot with aluminum foil and the lid.
Place the daube onto the center rack of the oven and allow it to braise undisturbed for 1 hour.
Take the pot out of the oven and stir everything up once again. If it looks like the liquid is reducing a lot (unlikely), add just enough water to cover the ingredients. Re-cover with foil and lid and return to the oven for another 1 1/2 hours. If the meat is not fork-tender give it another 30 minutes.
Remove the herb packet, taste, and adjust seasoning if necessary.
Serve with egg noodles, boiled potatoes, or crunchy bread and a simple green salad.
Pour yourself a glass of good red wine.
BIRD SEED BALLS
1 1/2 cups lard
1 cup peanut butter (i use chunky but creamy is fine too)
1 cup rolled oats
1 cup cornmeal
1 1/2 cups birdseed
1 cup chopped dried cranberries
1 cup chopped dried apricots
1/2 cup pumpkin seeds
Place the lard and peanut butter in a heat-safe bowl and heat in the microwave on low for 20 seconds. If the lard is still hard, add another 20 seconds. Mix them together.
Add the birdseed and stir to combine.
Sprinkle birdseed and the rest of the ingredients on a plate.
Form the mixture into balls and roll in the ingredients on the plate to coat the outside of each.
Place the balls in the fridge to harden, at least 2 hours.
Using string or twine tie a knot around the ball, leaving enough to tie on a tree limb;
I skipped the last step and kept the balls in the fridge for several days. They wouldn't last long in gale-force winds and torrential rain!
A Final Note:
The pandemic continues to rage on and is affecting us on the islands. While the Annual Food drive is over, there will continue to be people in need of some help. If you can, please contribute to the Cape Hatteras United Methodist Men, an amazing group of men and women volunteers from all walks of faith, bonded together with the sole purpose of providing compassionate assistance to those in most need on Hatteras Island, without stipulation or discrimination.
There are NO administrative costs, so 100% OF ALL DONATIONS go directly to helping others.
PO Box 1591
Buxton, NC 27920