Campbell Farms is making a name for itself in potato-growing circles well beyond the borders of Idaho. With properties in North Dakota and Minnesota, this family-owned farm-to-fork operation oversees every aspect of the potato production process, from planting through harvesting, washing, packaging and shipping in order to get its product to grocery stores all across the country. 
"People tend to think of Idaho as the potato capital for the Russet potato, but we really focus on the red and yellow varieties," says co-owner Tom Campbell. "Russets are best for French fries, which is why they're so popular in the food service industry. But if you've ever baked a red or yellow potato at home, we've found through blind taste tests that they're actually more flavorful. They don't even need butter!"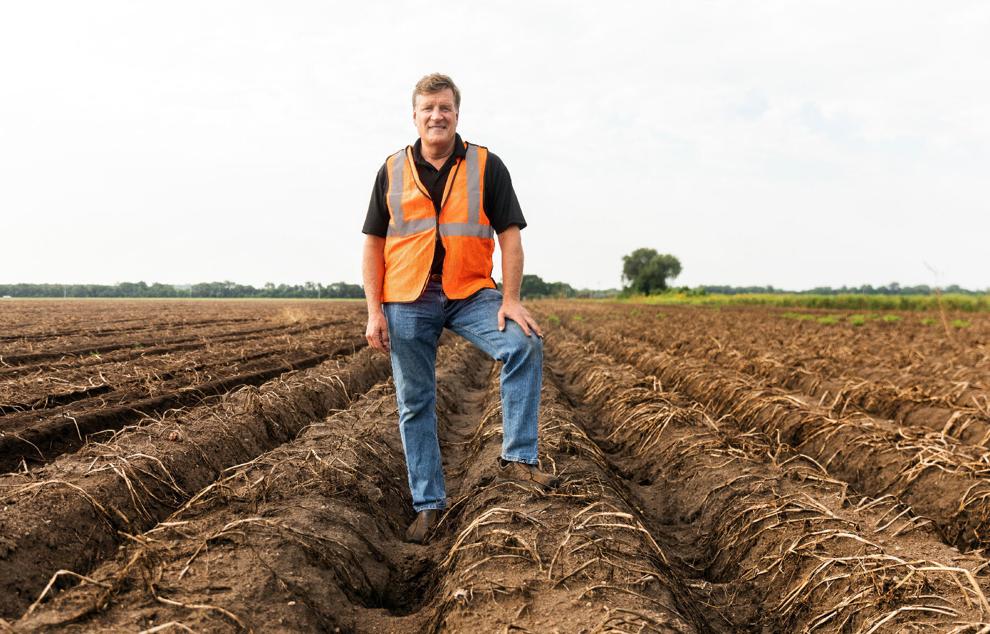 Planting the seeds
Now four decades into business, Campbell Farms got its start back in 1978 when Tom and his brothers, Bill and Greg, decided to give the venture a go, investing $9,000 into property and equipment.
Farming apparently runs in the family's blood. Greg's son, Austin, officially joined the team in 2012 after doing small jobs around the farm for as long as he can remember.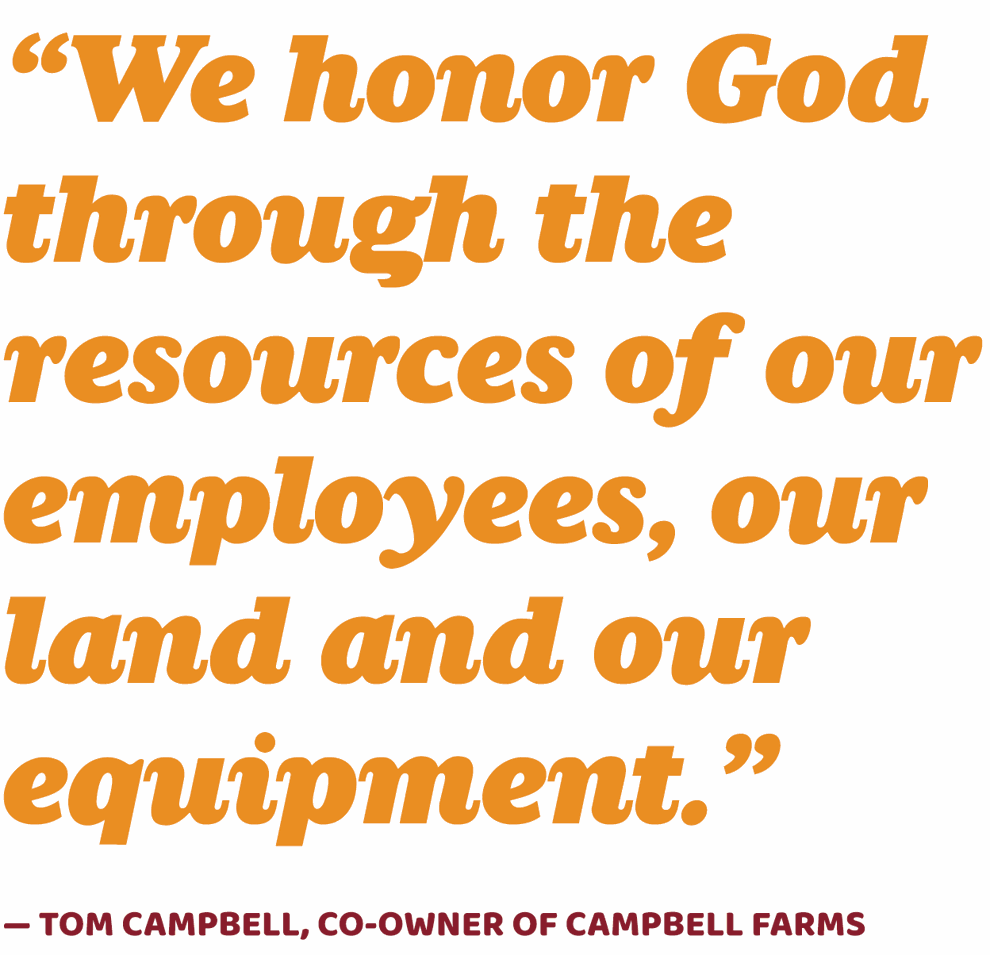 "My dad was a mail carrier, but he also took care of a small farm on a part-time basis where he grew wheat and barley," Tom adds.  
Since their very first 140-acre crop of red potatoes, the Campbell brothers grew their holdings through the years into 10,000 acres and an 11-farm operation across six states at its peak. Currently, the business employs around 100 staffers and oversees around 4,000 acres via farming facilities in Grafton, North Dakota and Big Lake, Minnesota.
"I like to say that we honor God through the resources of our employees, our land and our equipment," Tom says. "He's blessed us with what we need to grow food to feed our country."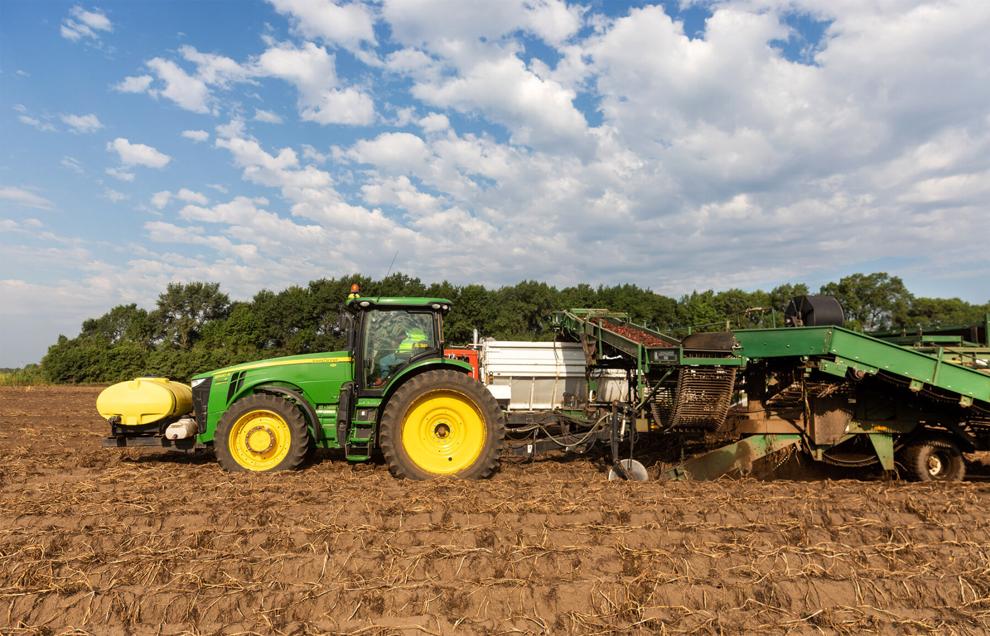 From farm to fork
Managing every aspect of the growing, shipping and marketing process allows the Campbells to maintain tight quality control over the product they're putting out, and to supply potatoes to their customers on a year-round basis. In Big Lake, the planting starts in late March or early April, with Grafton following a month or so behind.
"Most of our potatoes are 90- to 120-day varieties," Austin says, "Harvest usually starts in July and runs into September."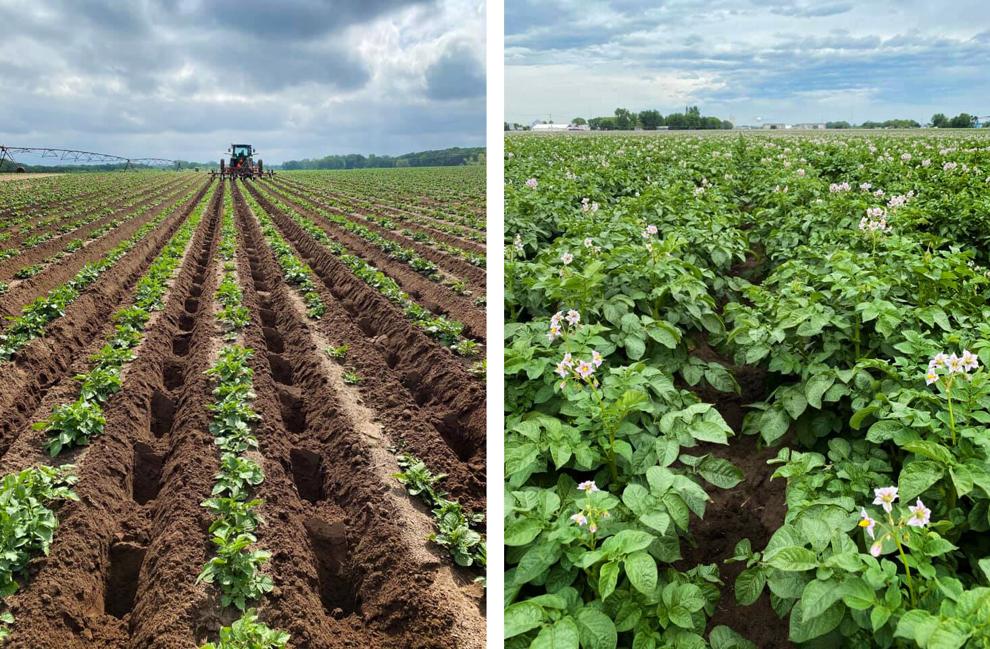 Tom and Austin are both quick to point out that potatoes involve additional processing that goes way beyond what other staple crops require.
"We grow some rotational crops like corn, wheat and soybeans, but potatoes are a totally different animal," Tom describes. "With wheat and corn, for instance, you plant it, you spray it once, you harvest it and you're basically done."
After Campbell Farms' potatoes are harvested, they're washed with clean water, dried and cooled to 45 degrees for storage. After grading and sizing, a computerized machine packages the potatoes into bags for shipping to a network of mainframe grocery stores throughout the United States and Canada for distribution.
"In the industry, we joke that potatoes are a 13-month season, meaning you're never done," Tom says.
Thanks to increased customer demand, Campbell Farms is actually weathering the Covid-19 pandemic fairly well.
"The food service sector dropped off, but our retail and grocery business almost doubled during the first few months when everyone was staying at home," Tom explains. "Potatoes are an economical belly filler; you can buy a whole bag for just a couple dollars.
Stores were overwhelmed at the start of the pandemic and couldn't keep potatoes in stock, but things have since returned pretty much to normal."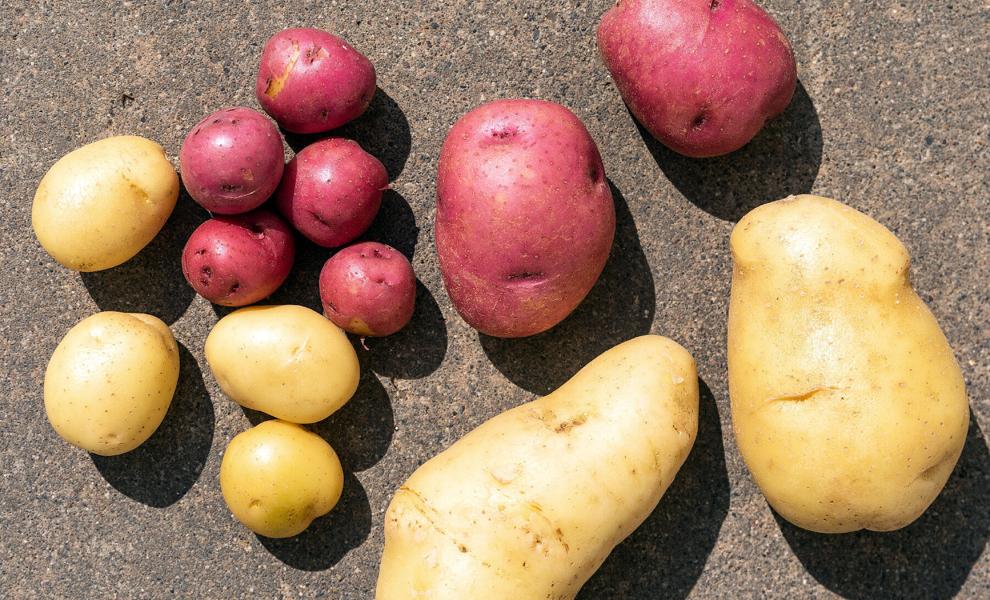 Hot potato
Both all-purpose potato varieties, red potatoes and yellow potatoes like the ones grown at Campbell Farms can be cooked, eaten and enjoyed in any number of preparations.
"Reds and yellows are usually best baked, mashed or cubed for potato salads," Tom notes. "The market for yellow potatoes has grown, I'd say, 30 or 40% in the past seven or eight years. They don't really taste much different than the red; they're just a newer category that's getting more attention."
Organic potatoes represent a small, but growing, portion of the farm's overall crop, maybe 5% to 10%, according to Austin.
"The majority of our potatoes are grown conventionally, but we do have organic red and yellow varieties," he says. "When I came on board, there wasn't much demand, but now we're starting to get more orders for organic product."
Campbell Farms organic potatoes are certified through the California Certified Organic Farmers program.
"You have to let your land sit idle for three years after the last application of pesticides and I think that's what keeps a lot of farmers from moving to organic," Austin mentions. "From there, it's a year-round process of inspection to examine and evaluate what you do in the fields with the crops."
"You can't sell anything as organic without getting certified by one of the recognized entities to make sure it's legitimate," Tom adds. "It keeps you honest. The U.S. organic process is heavily monitored for that reason."

Trends and observations
As with many industries, automation is a growing trend in potato farming due to labor shortages. Tom says food safety initiatives are another area that has had big impacts on the farming industry as of late.
"Twenty years ago, there just weren't many, if any, protections in place," he recalls. "It's not that we didn't care, they just didn't exist. Now, it's unbelievable how many checks and inspections there are. We have a full-time food safety director on staff. It's been a huge change. And it's a good thing."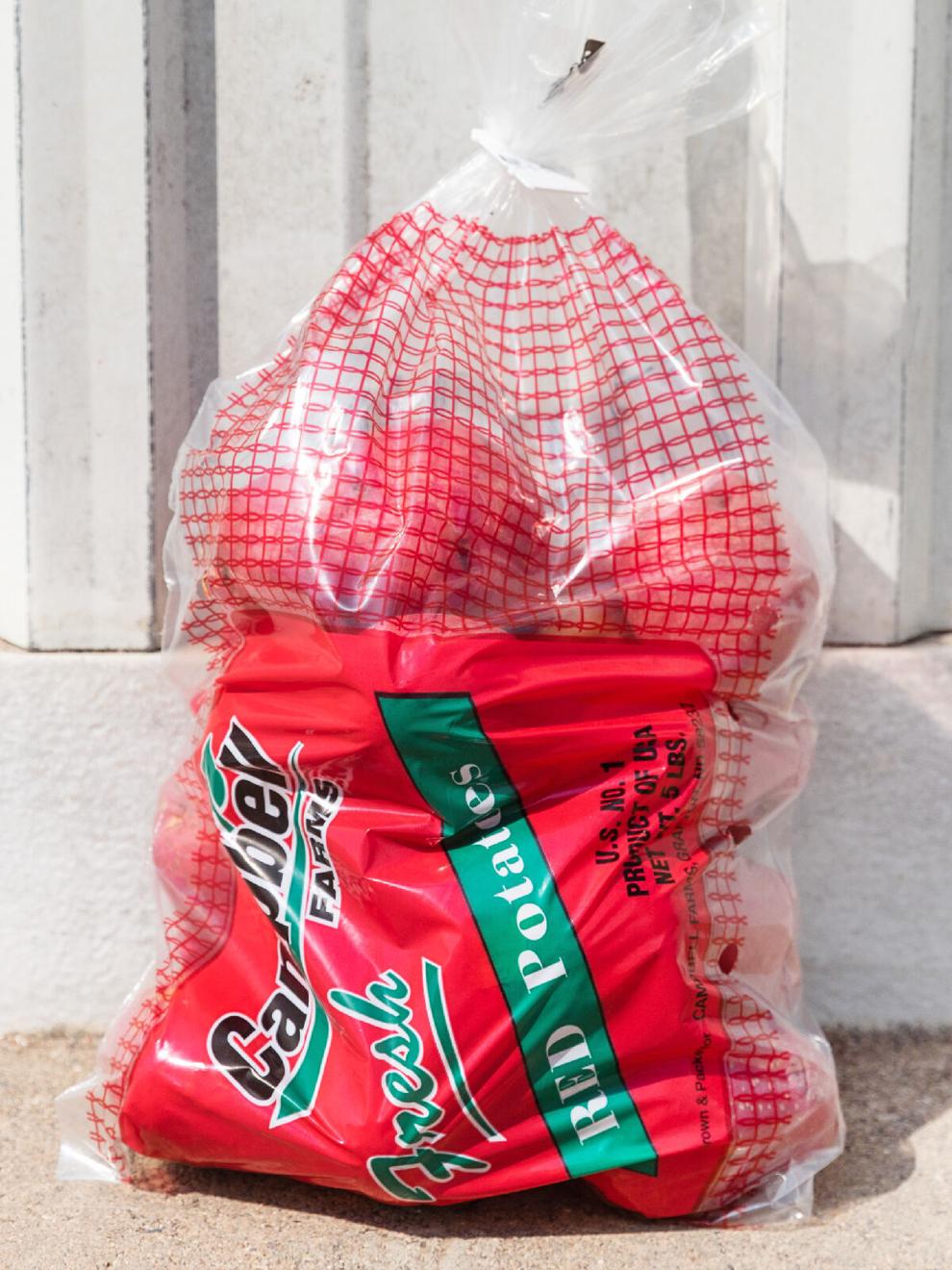 In a less-is-more move, Campbell Farms is now packaging products in smaller sizes.
"People just aren't buying 10-pound bags of potatoes anymore," Tom continues. "They'd rather buy 5- or 3-pound bags more often than a 10-pound bag once a month."
The potatoes themselves are getting smaller as well, as modern eating habits evolve. With many Americans reducing their carbohydrate intake, the Campbells are seeing portions of three or four small potatoes on plates as opposed to one big 16-ouncer.
Another benefit is efficiency in the kitchen — smaller potatoes don't take as long to cook.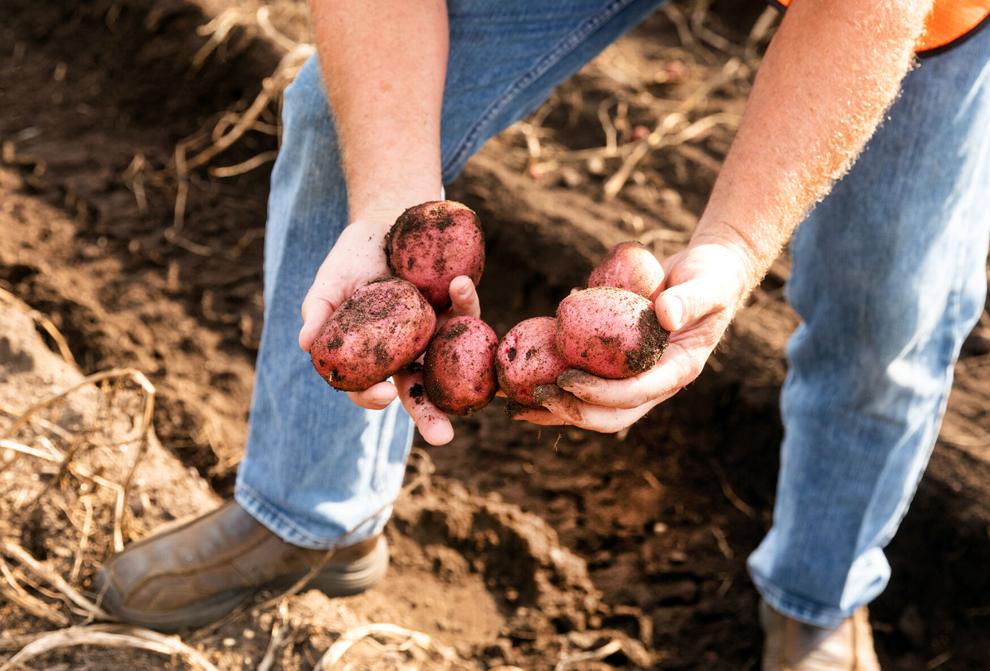 Looking ahead
As Tom and his brothers start thinking about passing the mantle of leadership on to the next generation of Campbells, Austin, his brother, Grayden, and their cousin Thomas are happily stepping up to accept it.
"We're ready to keep things going," Austin says.
When it comes down to eating, both Tom and Austin say they prefer a good baked red, but admit they've never met a potato they didn't like.
"I've seen my dad dig one out of the field and eat it raw!" Austin laughs.
"Hey, raw with salt isn't a bad way to go!" Tom defends.